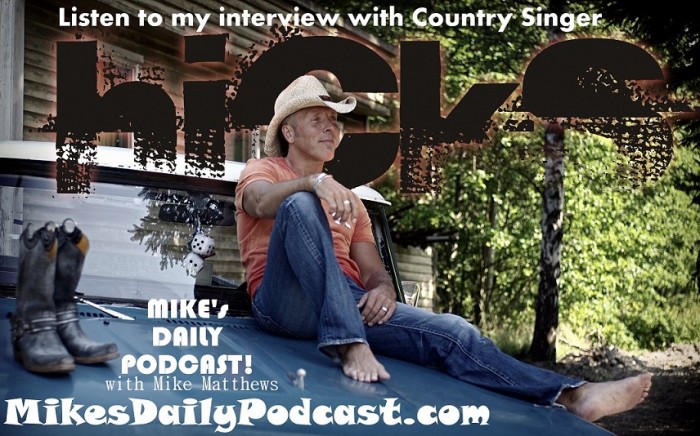 MIKE's DAILY PODCAST effizode 704
Country Music.  I worked on a Country Music Station for 11 years and then was the program director for a station in the deep South.  I listened to Country during the huge surge it had in the early 80's where crossover acts like Alabama, Kenny Rogers, Dolly Parton, and Willie Nelson were heard all over the place.  Oooo, and the Bellamy Brothers.  Remember them?  Then I actually started working on Country radio during the next big "Young Country" surge of the early 90's.  Never could make a pair of jeans look good on me, though.  So I don't know how Country that makes me.  Durn it.
Today we hear from Chely Shoehart, Floyd the Floorman, and John Deer the Engineer, PLUS it's the return of the feature INTO AN INTERVIEW where I speak with the fascinating Country Singer from Sweden called HICKS who has written for a myriad of 80's rockers!
Tomorrow I'll have the finale of my INTO AN INTERVIEW with Country Singer/Songwriter HICKS, plus we'll hear from Benita, the Disgruntled Fiddle Player, and the Brewmaster!
Email MikesDailyPodcast@gmail.com
Website http://MikesDailyPodcast.com
iTunes http://itunes.apple.com/us/podcast/michaelmatthewss-podcast/id318601461
Facebook Page http://facebook.com/MikesDailyPodcast
Twitter Page http://twitter.com/MikeTalks
Tumblr Page http://MikesDailyPodcast.tumblr.com
Yelp Page http://www.yelp.com/biz/Mikes-Daily-Podcast-castro-valley
MixCloud http://www.mixcloud.com/MikesDailyPodcast
Spreaker http://www.spreaker.com/user/mikematthews
SoundCloud http://soundcloud.com/MikesDailyPodcast
YouTube http://youtube.com/MikesDailyPodcast