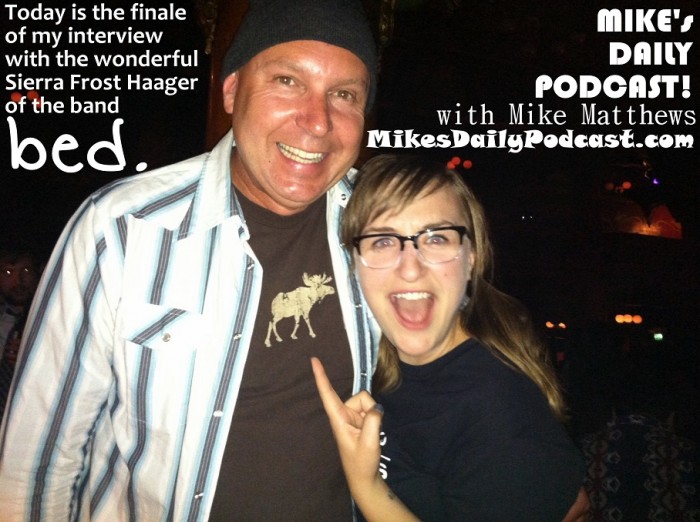 MIKE's DAILY PODCAST effizode 722
Leaf blowers: they look like lame ghostbusters.  They make a bunch of noise, they pollute the atmosphere, and the do a horrible imitation of wind.  Hate them hate them hate them.  Haven't they ever heard of the rake?  But Mike, rakes make that horrible scraping sound, like nails on a chalk board.  Okay, well then why do we have such a problem with leaves anyway?  Say it loud and say it proud: leave leaves alone!
Today we hear from Chely Shoehart, Floyd the Floorman, and John Deer the Engineer, PLUS it's the FINALE of my INTO AN INTERVIEW with SIERRA FROST HAAGER of the band BED!
Next show I'll bring you the return of the much loved feature THE MIKELOPEDIA INSANICA where we'll look at the fascinating world of ENTERTAINMENT!  Plus we'll hear from Benita, the Disgruntled Fiddle Player, and the Brewmaster!
Email MikesDailyPodcast@gmail.com
Website http://MikesDailyPodcast.com
iTunes http://itunes.apple.com/us/podcast/michaelmatthewss-podcast/id318601461
Facebook Page http://facebook.com/MikesDailyPodcast
Twitter Page http://twitter.com/MikeTalks
Tumblr Page http://MikesDailyPodcast.tumblr.com
Yelp Page http://www.yelp.com/biz/Mikes-Daily-Podcast-castro-valley
MixCloud http://www.mixcloud.com/MikesDailyPodcast
Spreaker http://www.spreaker.com/user/mikematthews
SoundCloud http://soundcloud.com/MikesDailyPodcast
YouTube http://youtube.com/MikesDailyPodcast