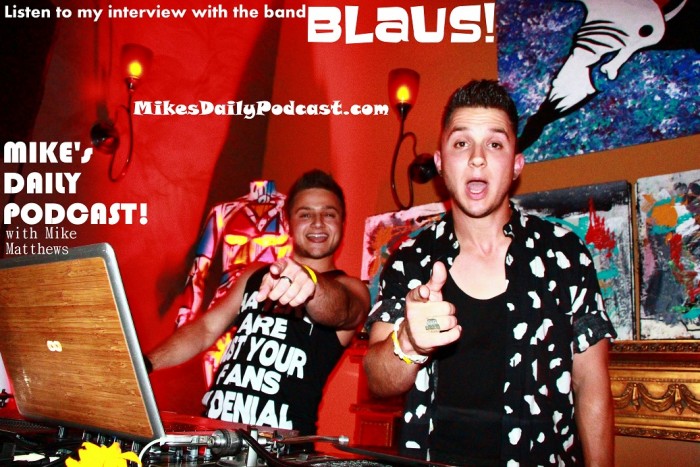 MIKE's DAILY PODCAST effizode 726
This is the place where I admit I'm not the biggest sports fan, and I used to get annoyed when my favorite TV show would feature a sports celebrity just to get the ratings boost.  Sports celebrities, except for a select few, CAN'T ACT!  Wait, is that what we love about sport celebrities showing up on sitcoms and dramas?  The fact that they can't act, and that's HILARIOUS!  Oh…okay.  So cathartic.
Today we hear from Benita, the Disgruntled Fiddle Player, and the Brewmaster, plus a brand new INTO AN INTERVIEW where I speak with the brother duo dance band BLAUS!
Tomorrow I'll have the finale of my INTO AN INTERVIEW with Nathan and Zach Blaustone from the band BLAUS, plus we'll hear from Madame Rootabega, Valentino, and Bison Bentley!
Email MikesDailyPodcast@gmail.com
Website http://MikesDailyPodcast.com
iTunes http://itunes.apple.com/us/podcast/michaelmatthewss-podcast/id318601461
Facebook Page http://facebook.com/MikesDailyPodcast
Twitter Page http://twitter.com/MikeTalks
Tumblr Page http://MikesDailyPodcast.tumblr.com
Yelp Page http://www.yelp.com/biz/Mikes-Daily-Podcast-castro-valley
MixCloud http://www.mixcloud.com/MikesDailyPodcast
Spreaker http://www.spreaker.com/user/mikematthews
SoundCloud http://soundcloud.com/MikesDailyPodcast
YouTube http://youtube.com/MikesDailyPodcast