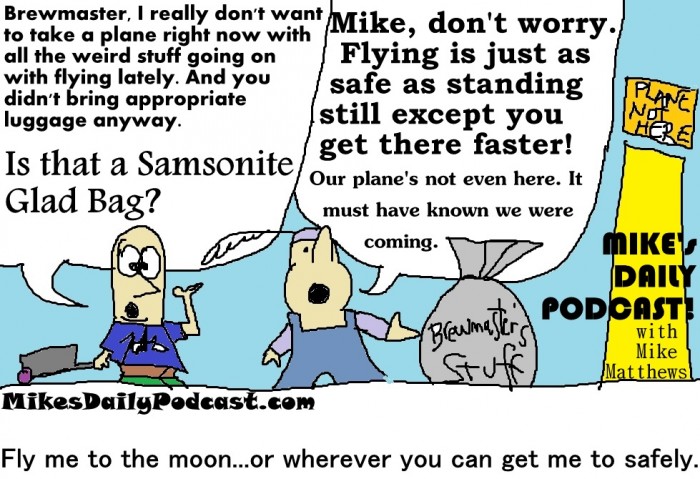 MIKE's DAILY PODCAST effizode 730
Do you remember a couple years back when Disney had so much success with the Pirates of the Caribbean and they thought, Hey, what other rides do we have we can turn into successful movies?  Then they picked the Haunted Mansion.  And they put Eddie Murphy in it.  Well, I watched it on Netflix last night.  Everyone knows it was a flop and horrible, but I had to see how did they try to solve the problem of making a ride a movie.  And it's so great to finally meet the mysterious voice behind the donkey in Shrek.
Today we hear from Madame Rootabega, Valentino, and Bison Bentley, PLUS it's PART 2 of my INTO AN INTERVIEW with the 5 piece band from BENICIA, California, DEAD CAT HAT!
Tomorrow I'll have the FINALE of my INTO AN INTERVIEW with the original band DEAD CAT HAT, plus we'll hear from Chely Shoehart, Floyd the Floorman, and John Deer the Engineer!
Email MikesDailyPodcast@gmail.com
Website http://MikesDailyPodcast.com
iTunes http://itunes.apple.com/us/podcast/michaelmatthewss-podcast/id318601461
Facebook Page http://facebook.com/MikesDailyPodcast
Twitter Page http://twitter.com/MikeTalks
Tumblr Page http://MikesDailyPodcast.tumblr.com
Yelp Page http://www.yelp.com/biz/Mikes-Daily-Podcast-castro-valley
MixCloud http://www.mixcloud.com/MikesDailyPodcast
Spreaker http://www.spreaker.com/user/mikematthews
SoundCloud http://soundcloud.com/MikesDailyPodcast
YouTube http://youtube.com/MikesDailyPodcast