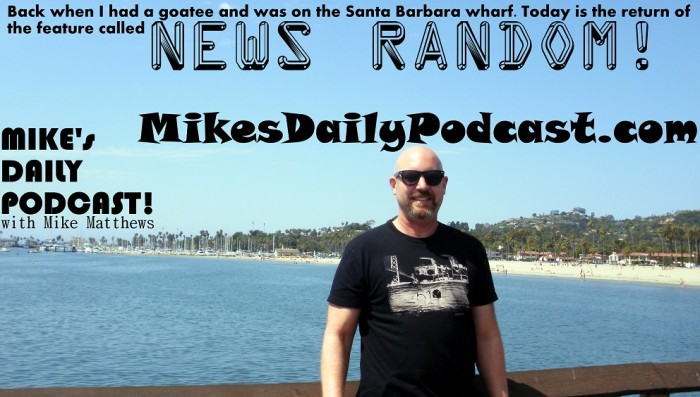 MIKE's DAILY PODCAST effizode 732
Watching CSPAN 3 can be exciting!  No, really!  Especially when some jerk congressman from Virginia is yelling at someone testifying at a hearing and not even letting him have the chance to defend himself:  "Why don't you know if we ask the little immigrant kids if they're gangsters?"  "Well, congressman from some nondescript Southern state, I'll have to get back to you with that information."  "THERE'S NO EXCUSE FOR YOU NOT KNOWING!  IMPEACH OBAMA!" Seriously, desperate for votes, jackass? 
Today we hear from Benita, the Disgruntled Fiddle Player, and the Brewmaster, PLUS it's the return of the feature NEWS RANDOM where we look at some interesting stories about our society today.
Next show I'll bring you another INTO AN INTERVIEW where I talk to the local band called CASH FOR GOLD, plus we'll hear from Madame Rootabega, Valentino, and Bison Bentley!
Email MikesDailyPodcast@gmail.com
Website http://MikesDailyPodcast.com
iTunes http://itunes.apple.com/us/podcast/michaelmatthewss-podcast/id318601461
Facebook Page http://facebook.com/MikesDailyPodcast
Twitter Page http://twitter.com/MikeTalks
Tumblr Page http://MikesDailyPodcast.tumblr.com
Yelp Page http://www.yelp.com/biz/Mikes-Daily-Podcast-castro-valley
MixCloud http://www.mixcloud.com/MikesDailyPodcast
Spreaker http://www.spreaker.com/user/mikematthews
SoundCloud http://soundcloud.com/MikesDailyPodcast
YouTube http://youtube.com/MikesDailyPodcast