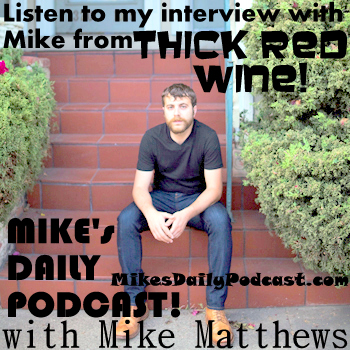 MIKE's DAILY PODCAST effizode 741
Or…
I had a splendid time camping with Robert Owen Welsh of WELSH ON THE WORLD this past weekend.  His parents are simply wonderful and we had fun letting the dogs run on the beach even though Bodega Bay has a strict "no dog on beach" policy.  What's with all the rules, California?  Are we teetering that close to chaos that we have to put up signs, signs, everywhere a sign?  And fines, fines, oh my god the fines!  287 dollars as I have mentioned before for having a dog off leash here in the East Bay!  I went to court and fought it and BOTH POLICE OFFICERS showed up to defend the ticket.  Is that what we're all about California?  Are we like Republicans after all?  The party of "no".  Are we the state of "no"?
Today we hear from Benita, the Disgruntled Fiddle Player, and the Brewmaster, PLUS it's the return of the feature INTO AN INTERVIEW where I'll speak with Mike from the SAN FRANCISCO band called THICK RED WINE!
Tomorrow I'll bring you part 2 of my INTO AN INTERVIEW with THICK RED WINE, plus we'll hear from Madame Rootabega, Valentino, and Bison Bentley!
Email MikesDailyPodcast@gmail.com
Website http://MikesDailyPodcast.com
iTunes http://itunes.apple.com/us/podcast/michaelmatthewss-podcast/id318601461
Facebook Page http://facebook.com/MikesDailyPodcast
Twitter Page http://twitter.com/MikeTalks
Tumblr Page http://MikesDailyPodcast.tumblr.com
Yelp Page http://www.yelp.com/biz/Mikes-Daily-Podcast-castro-valley
PodOmatic http://MichaelMatthews.podomatic.com
MixCloud http://www.mixcloud.com/MikesDailyPodcast
Spreaker http://www.spreaker.com/user/mikematthews
SoundCloud http://soundcloud.com/MikesDailyPodcast
YouTube http://youtube.com/MikesDailyPodcast