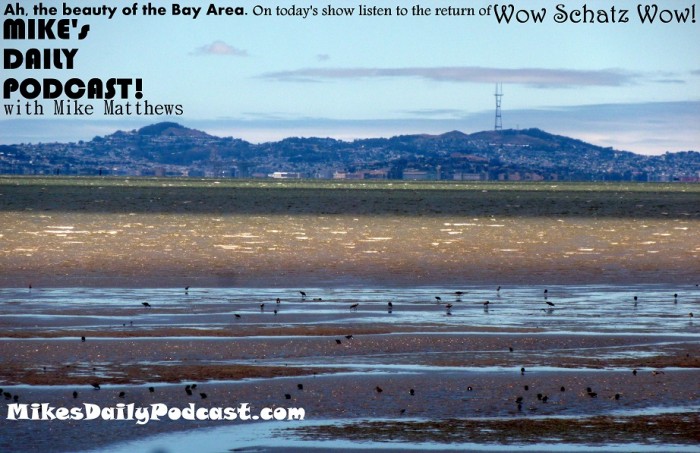 MIKE's DAILY PODCAST effizode 745
Puff-uppies.  What are they?  They are specifically white males in their 40's who have put on a noticeable amount of weight since their younger days yet they still seem to get acting work.  Not that I have remained svelte since my high school days.  There's a picture of me with a full head of hair and a thin frame that has made the rounds on facebook that I know screams bygone era. Anyway, you gotta love puff-uppies.  Next on the list to love, baldies.  Baldies, okay.  Skinheads, no.
Today we hear from Madame Rootabega, Valentino, and Bison Bentley, PLUS it's the return of the much loved feature WOW SCHATZ WOW where we look at some surprising stories from the world of HEALTH!
Next show I'll have a very interesting interview with a woman who does something for a living that will fascinate you, and I will do the interview from an extraordinary spot on the globe.  It's all part of the segment called MIKE ON MOBILE!  Plus we'll hear from Chely Shoehart, Floyd the Floorman, and John Deer the Engineer!
Email MikesDailyPodcast@gmail.com
Website http://MikesDailyPodcast.com
iTunes http://itunes.apple.com/us/podcast/michaelmatthewss-podcast/id318601461
Facebook Page http://facebook.com/MikesDailyPodcast
Twitter Page http://twitter.com/MikeTalks
Tumblr Page http://MikesDailyPodcast.tumblr.com
Yelp Page http://www.yelp.com/biz/Mikes-Daily-Podcast-castro-valley
PodOmatic http://MichaelMatthews.podomatic.com
MixCloud http://www.mixcloud.com/MikesDailyPodcast
Spreaker http://www.spreaker.com/user/mikematthews
Stitcher http://www.stitcher.com/podcast/mikes-daily-podcast
SoundCloud http://soundcloud.com/MikesDailyPodcast
YouTube http://youtube.com/MikesDailyPodcast