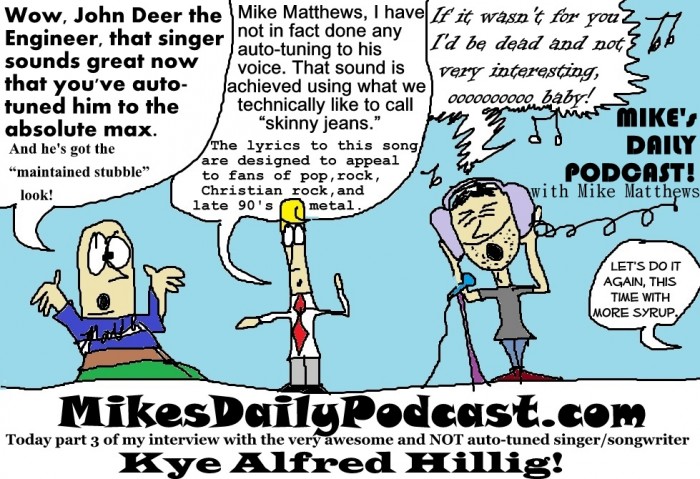 MIKE's DAILY PODCAST effizode 750
The Labor Day Weekend is here!  Time to waste a bunch of gas since it's so cheap!  Okay, so you listen to the show.  You know a little of my history.  You know I have spent over 20 years in the radio business.  Oh…you didn't know any of that?  Oh…so there's this guy who hosts a podcast who has all this radio experience and something that happened to him in the late 90's is happening to him again.  Find out what that is and for god's sake listen to one of my shows now and then!  I don't ask for much.  The show is free.  Well, it should be free we both know that.  Who are we kidding.  Or is it whom?  Jesus, I need to take remedial grammar.  And get some coconut oil.  That s#*! is good.
Today we hear from Benita, the Disgruntled Fiddle Player, and the Brewmaster, PLUS it's PART 3 of my INTO AN INTERVIEW with the singer/songwriter from the fine state of Washington, KYE ALFRED HILLIG!
Tomorrow I'll have the FINALE of my INTO AN INTERVIEW with KYE ALFRED HILLIG, plus we'll hear from Madame Rootabega, Valentino, and Bison Bentley!
Check out Kye's new album here http://KyeAlfredHillig.bandcamp.com
Email MikesDailyPodcast@gmail.com
Website http://MikesDailyPodcast.com
iTunes http://itunes.apple.com/us/podcast/michaelmatthewss-podcast/id318601461
Facebook Page http://facebook.com/MikesDailyPodcast
Twitter Page http://twitter.com/MikeTalks
Tumblr Page http://MikesDailyPodcast.tumblr.com
Yelp Page http://www.yelp.com/biz/Mikes-Daily-Podcast-castro-valley
PodOmatic http://MichaelMatthews.podomatic.com
MixCloud http://www.mixcloud.com/MikesDailyPodcast
Spreaker http://www.spreaker.com/user/mikematthews
Stitcher http://www.stitcher.com/podcast/mikes-daily-podcast
SoundCloud http://soundcloud.com/MikesDailyPodcast
YouTube http://youtube.com/MikesDailyPodcast