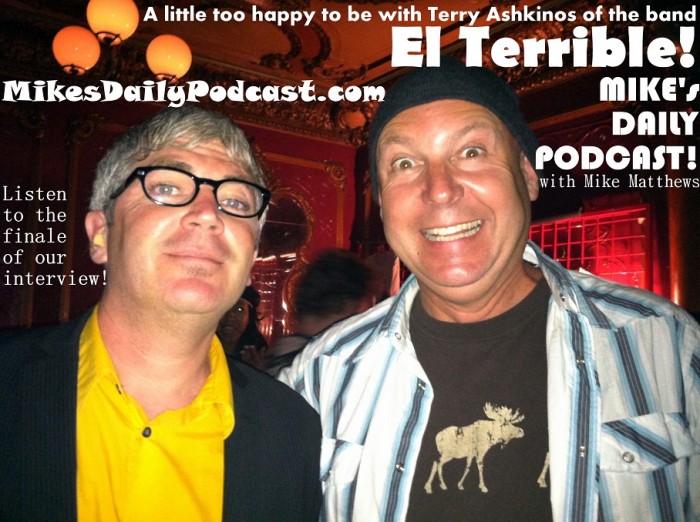 MIKE's DAILY PODCAST effizode 758
When I worked in Alabama, I worked at a radio station which was run by a man that I can only call quite simply a tyrant.  We was hellbent on striking fear in all of his employees.  He had no fear of the company that owned us, Cumulus, and he had distinct ideas on how managers, myself being one of them, needed to behave.  He yelled at me often and somehow thought that I needed to yell at my small staff of 3 people.  He called me an "amiable" and said I was too nice to people.  Managers need to be hated by everyone, he said, though he would call that "respect."  Well, I never respected him and I know few people that did.  Don't run your companies like tyrants.  You'll only be overthrown.
Today we hear from Chely Shoehart, Floyd the Floorman, and John Deer the Engineer, PLUS it's the FINALE of my INTO AN INTERVIEW with the wonderful TERRY ASHKINOS of the San Francisco band EL TERRIBLE!
Next show I'll bring you the DEBUT of a brand new segment called MATTHEWS NEWS!  Plus we'll hear from Benita, the Disgruntled Fiddle Player, and the Brewmaster!
Email MikesDailyPodcast@gmail.com
Website http://MikesDailyPodcast.com
iTunes http://itunes.apple.com/us/podcast/michaelmatthewss-podcast/id318601461
Facebook Page http://facebook.com/MikesDailyPodcast
Twitter Page http://twitter.com/MikeTalks
Tumblr Page http://MikeBlogs.tumblr.com
Yelp Page http://www.yelp.com/biz/Mikes-Daily-Podcast-castro-valley
PodOmatic http://MichaelMatthews.podomatic.com
MixCloud http://www.mixcloud.com/MikesDailyPodcast
Spreaker http://www.spreaker.com/user/mikematthews
Stitcher http://www.stitcher.com/podcast/mikes-daily-podcast
SoundCloud http://soundcloud.com/MikesDailyPodcast
YouTube http://youtube.com/MikesDailyPodcast