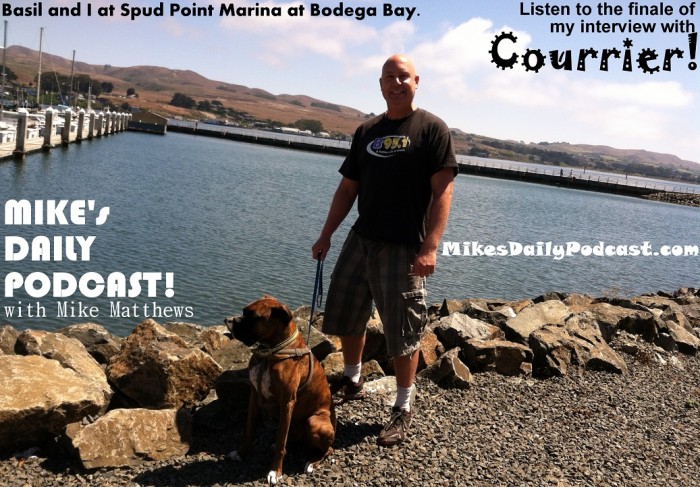 MIKE's DAILY PODCAST effizode 762
Yesterday as I drove up the Stagecoach Road in Dublin, California, I saw several young men in their late 20's to early 30's standing outside of condo complexes all with beards, crappy t-shirts, and cigarettes.  Not that I wear the best quality t-shirts, but I am thoroughly done with facial hair and I certainly would never smoke.  Although, I'm also not in my virile 20's or 30's anymore, either.  In fact, a birthday hangs in the balance for me in less than 2 months.  Thanks for reminding me.  I'm so glad we had this chat.
Today we hear from Benita, the Disgruntled Fiddle Player, and the Brewmaster, PLUS it's the FINALE of my INTO AN INTERVIEW with the Austin, Texas band COURRIER and their bassist TAYLOR COLE BARTHOLOMEW!
Next show, it's the return of the much loved feature WOW SCHATZ WOW where we'll look at some recent news stories that will surprise you!  Plus we'll hear from Madame Rootabega, Valentino, and Bison Bentley!
Email MikesDailyPodcast@gmail.com
Website http://MikesDailyPodcast.com
iTunes http://itunes.apple.com/us/podcast/michaelmatthewss-podcast/id318601461
Facebook Page http://facebook.com/MikesDailyPodcast
Twitter Page http://twitter.com/MikeTalks
Tumblr Page http://MikeBlogs.tumblr.com
Yelp Page http://www.yelp.com/biz/Mikes-Daily-Podcast-castro-valley
PodOmatic http://MichaelMatthews.podomatic.com
MixCloud http://www.mixcloud.com/MikesDailyPodcast
Spreaker http://www.spreaker.com/user/mikematthews
Stitcher http://www.stitcher.com/podcast/mikes-daily-podcast
SoundCloud http://soundcloud.com/MikesDailyPodcast
YouTube http://youtube.com/MikesDailyPodcast