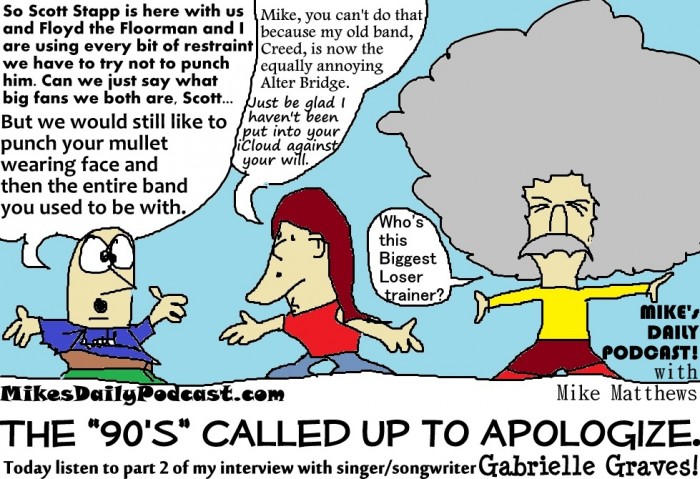 MIKE's DAILY PODCAST effizode 765
Tell your friends about the wonders of podcasts.  This is a growing amazing industry.  I recently heard a nice way of describing it: Original, on-demand audio content.  That's what it is.  And people like me are trying to bring it to you daily and in a timely context.  It's up to you now, then, to pick up this test tube and continue the experiments till we get the perfect scary blob monster that will eat all your friends while making out at the local drive-in theater.  This analogy just went off the tracks.  I'm amazed how long it took till it did that.  Quite surprised.
Today we hear from Benita, the Disgruntled Fiddle Player, and the Brewmaster, PLUS we hear from singer/songwriter GABRIELLE GRAVES from BURBANK, CALIFORNIA!  It's a lively PART 2 of our INTO AN INTERVIEW!
Tomorrow it's the FINALE of my INTO AN INTERVIEW with the beautiful GABRIELLE GRAVES, PLUS we'll hear from Madame Rootabega, Valentino, and Bison Bentley!
Email MikesDailyPodcast@gmail.com
Website http://MikesDailyPodcast.com
iTunes http://itunes.apple.com/us/podcast/michaelmatthewss-podcast/id318601461
Facebook Page http://facebook.com/MikesDailyPodcast
Twitter Page http://twitter.com/MikeTalks
Tumblr Page http://MikeBlogs.tumblr.com
Yelp Page http://www.yelp.com/biz/Mikes-Daily-Podcast-castro-valley
PodOmatic http://MichaelMatthews.podomatic.com
MixCloud http://www.mixcloud.com/MikesDailyPodcast
Spreaker http://www.spreaker.com/user/mikematthews
Stitcher http://www.stitcher.com/podcast/mikes-daily-podcast
SoundCloud http://soundcloud.com/MikesDailyPodcast
YouTube http://youtube.com/MikesDailyPodcast