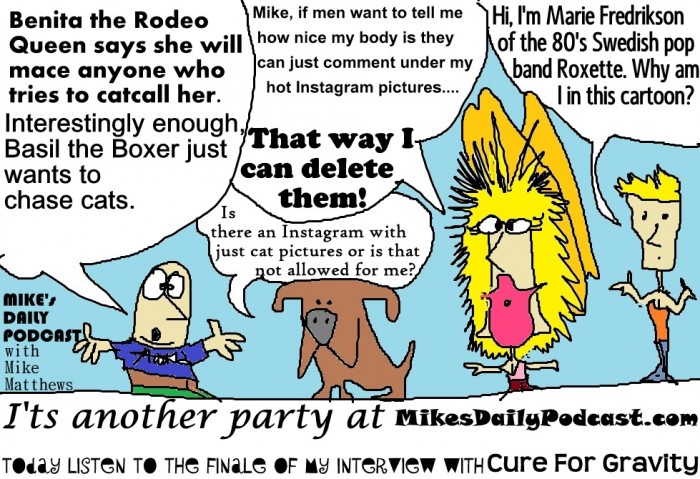 MIKE's DAILY PODCAST effizode 777
Today I have the FINALE of my INTO AN INTERVIEW MIKE ON MOBILE with the BERKELEY band CURE FOR GRAVITY, plus we hear from Benita, the Disgruntled Fiddle Player, and the Brewmaster! And an election happened in California.  Interesting things happened.  No really!  We'll find out what.
Wow I hate buses.  I never realized how much till today.  Oh, and the Google Maps app doesn't work for s#*@ in trying to figure out bus routes.  Back to the drawing board on that one, guys.  Yeah, you torch Apple with the GPS driving app but transit mode's a bust.  Now, on with the show.
Tomorrow it's the return of the much loved feature WOW SCHATZ WOW where we'll hear some interesting recent news stories you didn't know about, plus we'll hear from Madame Rootabega, Valentino, and Bison Bentley!
Email MikesDailyPodcast@gmail.com
Website http://MikesDailyPodcast.com
iTunes http://itunes.apple.com/us/podcast/michaelmatthewss-podcast/id318601461
Facebook Page http://facebook.com/MikesDailyPodcast
Twitter Page http://twitter.com/MikeTalks
Tumblr Page http://MikeBlogs.tumblr.com
Yelp Page http://www.yelp.com/biz/Mikes-Daily-Podcast-castro-valley
PodOmatic http://MichaelMatthews.podomatic.com
MixCloud http://www.mixcloud.com/MikesDailyPodcast
Spreaker http://www.spreaker.com/user/mikematthews
Stitcher http://www.stitcher.com/podcast/mikes-daily-podcast
SoundCloud http://soundcloud.com/MikesDailyPodcast
YouTube http://youtube.com/MikesDailyPodcast