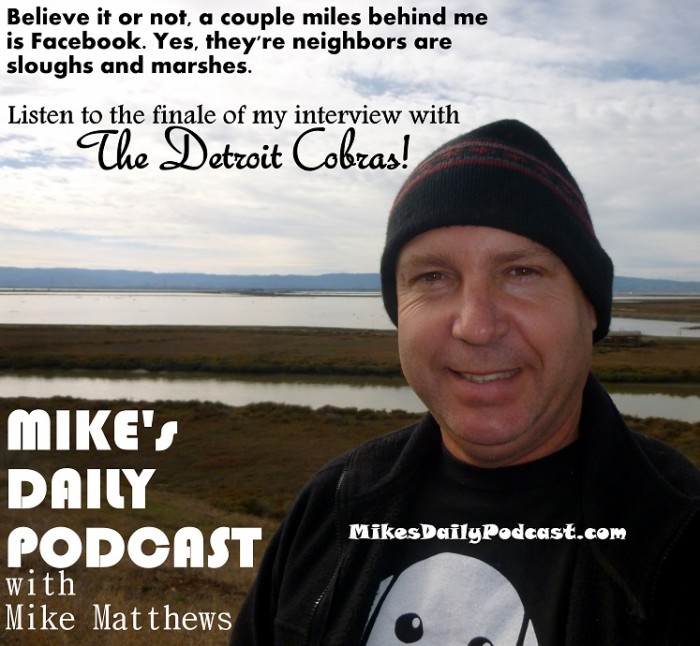 MIKE's DAILY PODCAST effizode 786
Today I have the FINALE of my INTO AN INTERVIEW with MARY COBRA of THE DETROIT COBRAS.  Plus we hear from Benita, the Disgruntled Fiddle Player, and the Brewmaster!  And can we finally say goodbye to Google Glass?
Don't get mad at me, I've put up my Christmas decorations already.  Why, Mike, why?  Well, I like it feeling like Christmas around my birthday.  See, I grew up happy that sometimes Thanksgiving fell on my birthday.  It felt like a pre-Christmas.  This year, Thanksgiving is not on my birthday.  The last time I enjoyed that was two years ago.  So in lieu of no major holiday on my birthday I'll just do up the house like it's special.  Then I'll blow out the candle on my imaginary birthday cake.  No cake, no calories to count.
Tomorrow I'll bring you the return of the much loved segment DO YOU KNOW DAT?  Plus we'll hear from Madame Rootabega, Valentino, and Bison Bentley!
Email MikesDailyPodcast@gmail.com
Website http://MikesDailyPodcast.com
iTunes http://itunes.apple.com/us/podcast/michaelmatthewss-podcast/id318601461
Facebook Page http://facebook.com/MikesDailyPodcast
Twitter Page http://twitter.com/MikeTalks
Tumblr Page http://MikeBlogs.tumblr.com
Yelp Page http://www.yelp.com/biz/Mikes-Daily-Podcast-castro-valley
PodOmatic http://MichaelMatthews.podomatic.com
MixCloud http://www.mixcloud.com/MikesDailyPodcast
Spreaker http://www.spreaker.com/user/mikematthews
Stitcher http://www.stitcher.com/podcast/mikes-daily-podcast
SoundCloud http://soundcloud.com/MikesDailyPodcast
YouTube http://youtube.com/MikesDailyPodcast