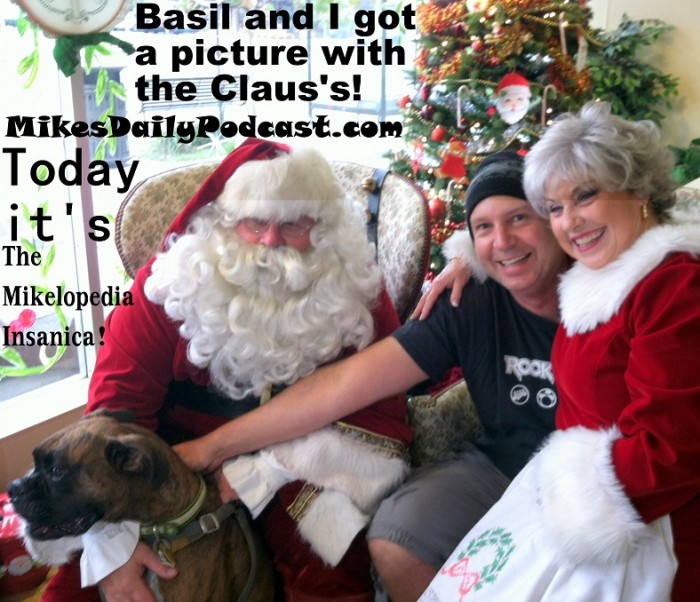 MIKE's DAILY PODCAST effizode 789
Today I have the return of the much loved feature and book THE MIKELOPEDIA INSANICA where we explore some interesting insane facts!  Plus we hear from Benita, the Disgruntled Fiddle Player, and the Brewmaster!  And Richard the Third.  Is that really his carcass?
Ah, the older generation.  They have some interesting theories on life, didn't they?  When you talk to someone in their 80's and 90's it can be a little window into a time when this little thing you're looking at, a computer, was just some futuristic thing that ran in machines that took up entire buildings.  Some lessons they impart are helpful.  Others are like "Oh my god, you did NOT just say that!"  So much fun.
Next show I'll have a brand new band from PORTLAND called NTNT on the segment INTO AN INTERVIEW, plus we'll hear from Madame Rootabega, Valentino, and Bison Bentley!
Email MikesDailyPodcast@gmail.com
Website http://MikesDailyPodcast.com
iTunes http://itunes.apple.com/us/podcast/michaelmatthewss-podcast/id318601461
Facebook Page http://facebook.com/MikesDailyPodcast
Twitter Page http://twitter.com/MikeTalks
Tumblr Page http://MikeBlogs.tumblr.com
Yelp Page http://www.yelp.com/biz/Mikes-Daily-Podcast-castro-valley
PodOmatic http://MichaelMatthews.podomatic.com
MixCloud http://www.mixcloud.com/MikesDailyPodcast
Spreaker http://www.spreaker.com/user/mikematthews
Stitcher http://www.stitcher.com/podcast/mikes-daily-podcast
SoundCloud http://soundcloud.com/MikesDailyPodcast
YouTube http://youtube.com/MikesDailyPodcast
Instagram http://instagram.com/MikesDailyPodcast