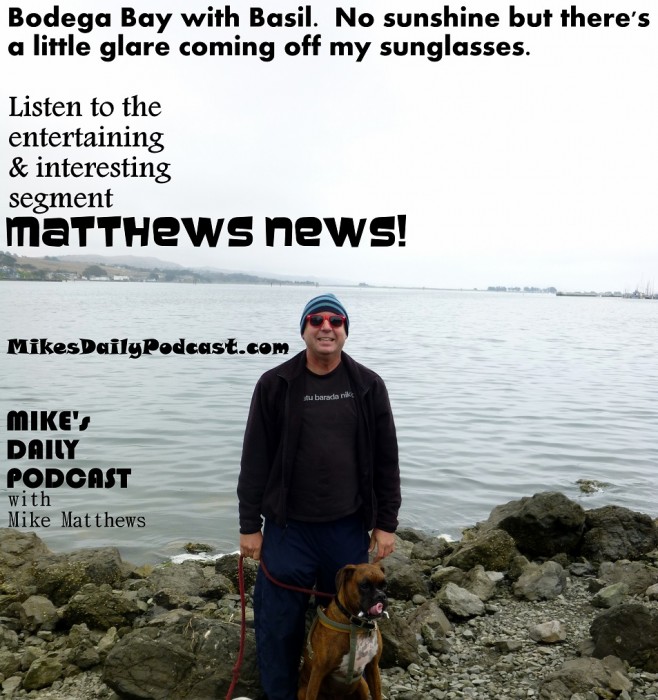 MIKE's DAILY PODCAST effizode 793
Today it's the return of the much loved feature MATTHEWS NEWS where we look at some interesting recent news stories, plus we hear from Madame Rootabega, Valentino, and Bison Bentley!  And did you know about Slacker?  No, not the 1991 movie with absolutely nobody memorable in it.  The music website.  Didn't think so.
Here in the Bay Area you can have locally grown vegetables put in a big paper bag (or canvas bag if you're more eco-friendly) and given to you every week for 11 bucks.  Sound like a great idea?  Yeah, for maybe the first month, but invariably EVERYONE picks up the bag and just lets all the veggies rot on their kitchen counter for a week which is exactly what happened to me.  I don't do the service, but my eco-minded roommate does.  I think I've maybe seen him actually use one or two veggies over the past 3 months he's done it.  So just like any subscriber service the whole thing's a sham.  Damn sustainable, green, organic, eco-friendly, and locally grown farmers wasting all that food!  Now if they grew Christmas sugar cookies…
Next show I'll have for you a fascinating guest that we'll talk to on the segment INTO AN INTERVIEW, plus we'll hear from Chely Shoehart, Floyd the Floorman,and John Deer the Engineer!
Email MikesDailyPodcast@gmail.com
Website http://MikesDailyPodcast.com
iTunes http://itunes.apple.com/us/podcast/michaelmatthewss-podcast/id318601461
Facebook Page http://facebook.com/MikesDailyPodcast
Twitter Page http://twitter.com/MikeTalks
Tumblr Page http://MikeBlogs.tumblr.com
Yelp Page http://www.yelp.com/biz/Mikes-Daily-Podcast-castro-valley
PodOmatic http://MichaelMatthews.podomatic.com
MixCloud http://www.mixcloud.com/MikesDailyPodcast
Spreaker http://www.spreaker.com/user/mikematthews
Stitcher http://www.stitcher.com/podcast/mikes-daily-podcast
SoundCloud http://soundcloud.com/MikesDailyPodcast
YouTube http://youtube.com/MikesDailyPodcast
Instagram http://instagram.com/MikesDailyPodcast