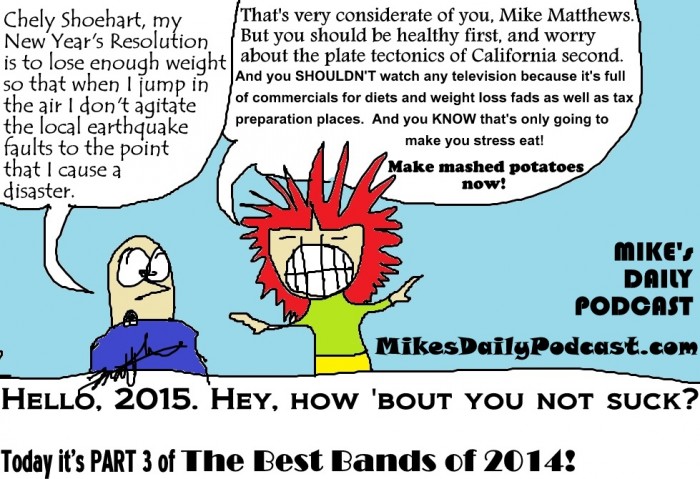 MIKE's DAILY PODCAST effizode 799
Today we hear PART 3 of the best of 2014 on 2014 FOR THEE RADIO!  Plus we hear from Madame Rootabega, Valentino, and Bison Bentley!  And dang you Apple iOS for eating my smart phone alive!
VH1's "I Love the 80's" was a show I often watched back when I had cable.  Well, I don't have it now, but I did have access to cable over the past couple of days and I watched the newly minted "I Loved the 2000's."  First off, I have called it and will forever call that decade THE OH's.  Second, as funny as that show can be, they rely a bit much on praising every single rap song and destroying ever single adult contemporary song.  If the song ever played on a station with John Tesh on it, it deserves to be atom-bombed.  Though part of me agrees with that I think they lay waste to some decent tunes.  Oh, by the way, "I Hate the VH1."  Is that a show?
Next show it's THE FINALE of the BEST OF 2014 on the segment 2014 FOR THEE RADIO, plus we hear from Chely Shoehart, Floyd the Floorman, and John Deer the Engineer!
Email MikesDailyPodcast@gmail.com
Website http://MikesDailyPodcast.com
iTunes http://itunes.apple.com/us/podcast/michaelmatthewss-podcast/id318601461
Facebook Page http://facebook.com/MikesDailyPodcast
Twitter Page http://twitter.com/MikeTalks
Tumblr Page http://MikeBlogs.tumblr.com
Yelp Page http://www.yelp.com/biz/Mikes-Daily-Podcast-castro-valley
PodOmatic http://MichaelMatthews.podomatic.com
MixCloud http://www.mixcloud.com/MikesDailyPodcast
Spreaker http://www.spreaker.com/user/mikematthews
Stitcher http://www.stitcher.com/podcast/mikes-daily-podcast
SoundCloud http://soundcloud.com/MikesDailyPodcast
YouTube http://youtube.com/MikesDailyPodcast