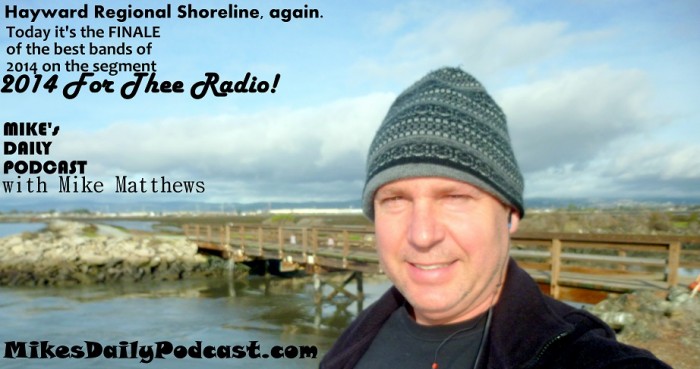 MIKE's DAILY PODCAST effizode 800
Listen to this show at this mp3 link…
Or here…
Or…
Today it's THE FINALE of the BEST OF 2014 on the segment 2014 FOR THEE RADIO, plus we hear from Chely Shoehart, Floyd the Floorman, and John Deer the Engineer!   And did you ask Santa for a blow up spaceship?  NASA did.  Those perverts.
Hey, big news!  This past weekend I began my first show on an Internet radio station called Country Crossroads Radio Dot Com.  It's put on by this great guy named Josh and the music is a huge variety of Country music.  As you know, I was on KHAY in Ventura County for over a decade from the early 90's to the early 00's so I got to know that music really well.  Plus I listened to it a lot as a kid.  You can hear me and a huge swath of our Country music heritage from 2pm to 7pm Eastern time on Saturday and Sunday.  That being said, no Country on today's podcast.  But it is always welcome!
Next show, so that we may all think good thoughts for my mom who really needs them right now, I'm going to bring you her inspired segment WOW SCHATZ WOW!  Plus we'll hear from Benita, the Disgruntled Fiddle Player, and the Brewmaster!
Email MikesDailyPodcast@gmail.com
Website http://MikesDailyPodcast.com
iTunes http://itunes.apple.com/us/podcast/michaelmatthewss-podcast/id318601461
Facebook Page http://facebook.com/MikesDailyPodcast
Twitter Page http://twitter.com/MikeTalks
Tumblr Page http://MikeBlogs.tumblr.com
Yelp Page http://www.yelp.com/biz/Mikes-Daily-Podcast-castro-valley
PodOmatic http://MichaelMatthews.podomatic.com
MixCloud http://www.mixcloud.com/MikesDailyPodcast
Spreaker http://www.spreaker.com/user/mikematthews
Stitcher http://www.stitcher.com/podcast/mikes-daily-podcast
SoundCloud http://soundcloud.com/MikesDailyPodcast
YouTube http://youtube.com/MikesDailyPodcast