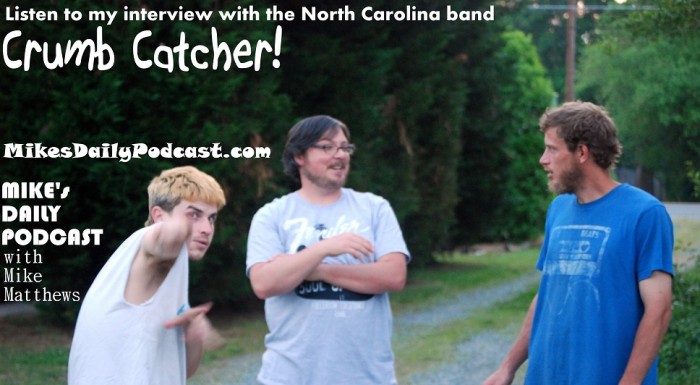 MIKE's DAILY PODCAST effizode 802
Today I have a very special band on the segment INTO AN INTERVIEW!  It's CRUMB CATCHER and we talk to their three members at their special HQ in Burlington, North Carolina!  It's my first interview for 2015!  Plus we hear from Madame Rootabega, Valentino, and Bison Bentley!  And Hi Ho, Hi Ho, it's off to the measles epidemic we go!
I watched the Benedict Cumberbatch movie "The Imitation Game" last night.  Though Alan Turing's life is fascinating, this movie is kinda boring in its attempt to dumb down the material.  The movie should have just focused on how he cracked the Nazi ENIGMA code and given less screen time to his childhood or later life.   Keira Knightly is too hot to play his wife, thus making that whole section of the movie completely unbelievable.  I think I'll just read Turing's biography and try to forget the film.  My rating: Barely even a bit of a Mikey smile.
Tomorrow I'll have PART 2 of my INTO AN INTERVIEW with the BURLINGTON, NORTH CAROLINA band CRUMB CATCHER, plus we'll hear from Chely Shoehart, Floyd the Floorman, and John Deer the Engineer!
Email MikesDailyPodcast@gmail.com
Website http://MikesDailyPodcast.com
iTunes http://itunes.apple.com/us/podcast/michaelmatthewss-podcast/id318601461
Facebook Page http://facebook.com/MikesDailyPodcast
Twitter Page http://twitter.com/MikeTalks
Tumblr Page http://MikeBlogs.tumblr.com
Yelp Page http://www.yelp.com/biz/Mikes-Daily-Podcast-castro-valley
PodOmatic http://MichaelMatthews.podomatic.com
MixCloud http://www.mixcloud.com/MikesDailyPodcast
Spreaker http://www.spreaker.com/user/mikematthews
Stitcher http://www.stitcher.com/podcast/mikes-daily-podcast
SoundCloud http://soundcloud.com/MikesDailyPodcast
YouTube http://youtube.com/MikesDailyPodcast