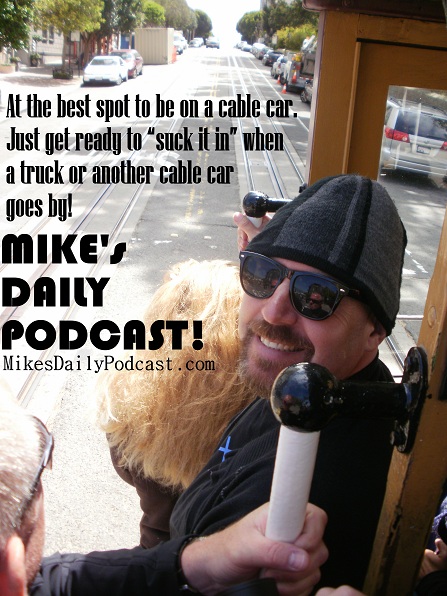 MIKE's DAILY PODCAST effizode 374 Friday September 14th 2012 5pm Pacific Time"Internet Talk Radio For Your Imagination!"
Listen to today's show on MichaelMatthews.podomatic.com by clicking on the link below…
http://michaelmatthews.podomatic.com/entry/2012-09-14T17_41_04-07_00
If the above link is expired you can listen to it on dropbox eternally here…
My boxer fell into the San Francisco Bay today.  He got out in two seconds, but he smelt so nice on the drive home.  Today was bathe Basil day!
Today we hear from Chely Shoehart, Floyd the Floorman, and John Deer the Engineer, PLUS  we bring you the segment RIDICULOUS RANDOM POSTS where we hear what's being posted in the social media world at this moment.
Tomorrow we bring you the segment MIKE ON MOBILE, plus we'll hear from Benita the Rodeo Queen, the Disgruntled Fiddle Player, and the Brewmaster.
Email me if you'd like to sponsor the show or if you'd like to be a guest on the show at MikesDailyPodcast@gmail.com
Tell your friends about my website http://www.MikesDailyPodcast.com
"Like" this show on facebook at http://facebook.com/MikesDailyPodcast
Subscribe on iTunes at http://itunes.apple.com/us/podcast/michaelmatthewss-podcast/id318601461
Or listen on your phone at Stitcher.com at http://www.stitcher.com/MIKESDAILY and enter the promo code MIKESDAILY to possibly win the $100 cash card!
Watch the MIKEs DAILY post PODCAST (when we get around to doing it) on Mike's Daily Podcast TV at http://youtube.com/MikesDailyPodcast
"Yelp" about this show at http://www.yelp.com/biz/Mikes-Daily-Podcast-castro-valley
Also check out http://MikesDailyPodcast.tumblr.com & http://twitter.com/MikeTalks