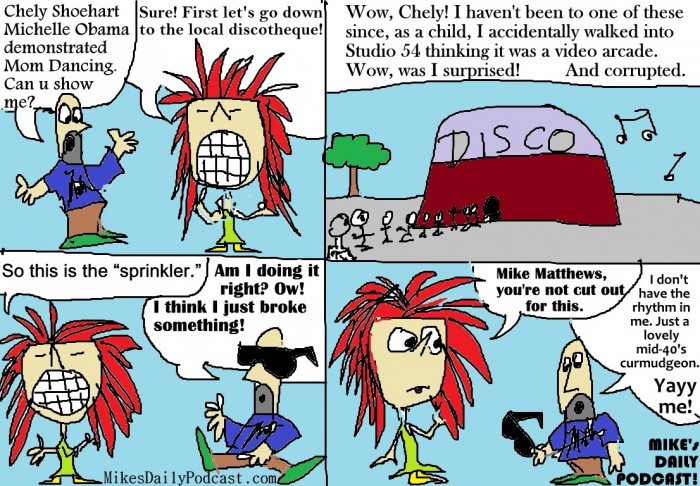 MIKE's DAILY PODCAST effizode 473 Saturday February 23rd 2013 10am Pacific Time
"Internet Talk Radio For Your Imagination!"
Or if the above link's expired you can find it forever on dropbox and blubrry here…
Are the women on this season of Project Runway the hottest ever?  I mean, aside from the always beautiful Heidi Klum (she'll be hot till the end of time) there's the little fake red head, the girl with mouth mole, the vaguely-lesbian one, and the cute little Hispanic one.  The Native-American one is some kind of earth goddess and no one should give her any shiznit.  And then, of course, there's Nina Garcia.  As much as I disagree with her it's hard not to agree with that mesmerizing accent.  Oh yeah, and the African-American beauty that's going to get voted off like any second now.  What a group of lovely ladies.  And let's hear it for the first hot bald guy on the show!  You gotta love the bald guys.  No, you gotta love them, I'm bald, dammit.
Today we hear from Chely Shoehart, Floyd the Floorman, and John Deer the Engineer, PLUS we bring you the FINALE of INTO AN INTERVIEW with Nick Krill of THE SPINTO BAND!
Tomorrow we bring you PART 1 of INTO AN INTERVIEW with Tim Perry of the group Ages And Ages, PLUS we'll hear from Benita, the Disgruntled Fiddle Player, and the Brewmaster!
Email me if you'd like to sponsor the show or if you'd like to be a guest on the show at MikesDailyPodcast@gmail.com
Tell your friends about my website http://MikesDailyPodcast.com
Subscribe on iTunes at http://itunes.apple.com/us/podcast/michaelmatthewss-podcast/id318601461
"Like" this show on facebook at http://facebook.com/MikesDailyPodcast
"Yelp" about this show at http://www.yelp.com/biz/Mikes-Daily-Podcast-castro-valley
I tweet at http://twitter.com/MikeTalks
Watch Mike's Daily Podcast TV at http://youtube.com/MikesDailyPodcast
In my 20's I worked at KNJO in Thousand Oaks, CA and now you can hear this show at Noon, 3pm, and 6pm DAILY on http://KNJOradio.com and at 2pm and 5pm DAILY on http://www.XRQK.com/LosAngeles