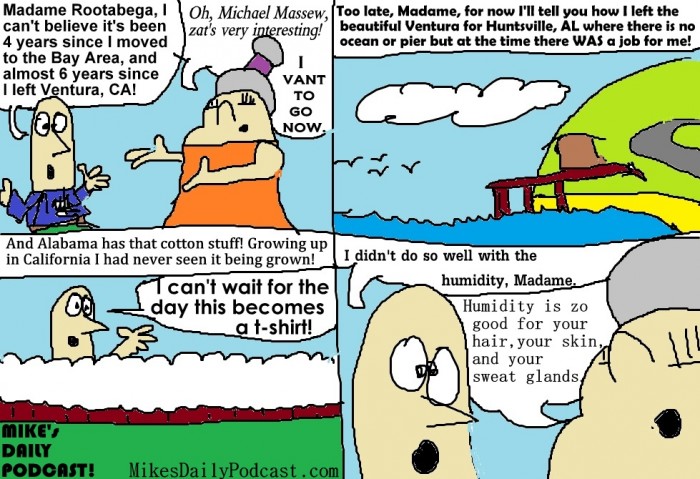 MIKE's DAILY PODCAST effizode 559 Wednesday September 4th 2013 11pm Pacific Time
"Internet Talk Radio For Your Imagination!"
Ahhh, facebook friends.  Are they really your friends?  The ones you haven't seen in over a year plus?  How about the ones you've only met once…or twice?  I mean, if I can call just anybody willy nilly my friend then hey, mark zuckerberg's my pal!  Way to go, mark, taking over the world!  Yes, I'm not capitalizing for a reason.  I'm jealous.
Today we hear from Benita, the Disgruntled Fiddle Player, and the Brewmaster, PLUS we bring you the segment THE MIKELOPEDIA INSANICA where we hear some interesting stories concerning the culture we live in today.
Tomorrow we bring you THE DEBUT of a new segment called BANDSMUTATIONS, plus we'll hear from Madame Rootabega, Valentino, and Bison Bentley,
Email me if you'd like to sponsor the show or if you'd like to be a guest on the show at MikesDailyPodcast@gmail.com
Tell your friends about my website http://MikesDailyPodcast.com
Subscribe on iTunes at http://itunes.apple.com/us/podcast/michaelmatthewss-podcast/id318601461
"Like" this show and then share it on facebook at http://facebook.com/MikesDailyPodcast
"Yelp" about this show at http://www.yelp.com/biz/Mikes-Daily-Podcast-castro-valley
I tweet at http://twitter.com/MikeTalks
Listen to the show on SoundCloud at http://soundcloud.com/MikesDailyPodcast
And hear it on Spreaker at http://www.spreaker.com/user/MikeMatthews
Watch Mike's Daily Podcast TV at http://youtube.com/MikesDailyPodcast