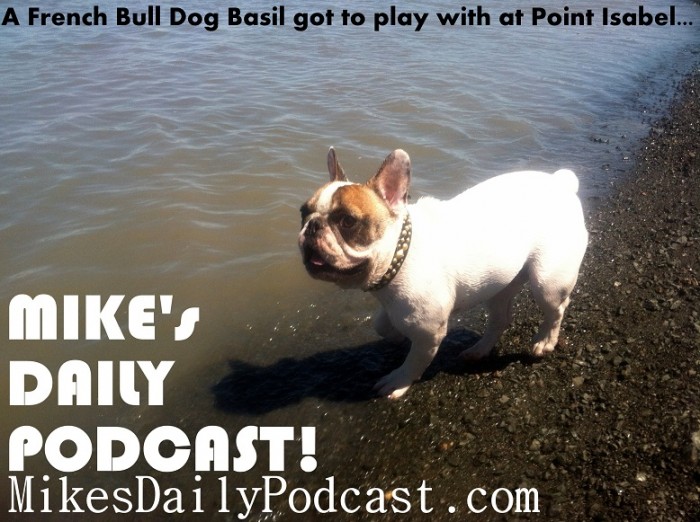 MIKE's DAILY PODCAST effizode 526 Tuesday June 25th 2013 3pm Pacific Time
"Internet Talk Radio For Your Imagination!"
Basil and I went on our daily walk and found ourselves in Carlos Bee Park.  Kinda scary.  It could be a really nice park but with budget cuts you know that's going to be difficult right now.  It has lots of trees and a little creek running through it that has water even though it's June.  Cutting through the park you find yourself practically in Downtown Hayward.  Hayward it trying to revitalize this section right now and is having some success.  It would be interesting to see a revitalized Carlos Bee Park.  Maybe that's down at the bottom of the list.  It's amazing in this area surrounding PodCastro Valley what gets completely run down and what still looks to be in tip top shape.  The term "hit and miss" comes to mind and that's definitely true for many of the East Bay cities.  Some sections, however, have come quite an impressive way!
Today we hear from Madame Rootabega, Valentino, and Bison Bentley, PLUS we bring you the segment NEWS RANDOM featuring some interesting health news that will help you get the best out of your doctor!
Tomorrow we bring you the return of the segment RIDICULOUS RANDOM POSTS!  Plus we'll hear from Chely Shoehart, Floyd the Floorman, and John Deer the Engineer!
Email me if you'd like to sponsor the show or if you'd like to be a guest on the show at MikesDailyPodcast@gmail.com
Tell your friends about my website http://MikesDailyPodcast.com
Subscribe on iTunes at http://itunes.apple.com/us/podcast/michaelmatthewss-podcast/id318601461
"Like" this show on facebook at http://facebook.com/MikesDailyPodcast
"Yelp" about this show at http://www.yelp.com/biz/Mikes-Daily-Podcast-castro-valley
I tweet at http://twitter.com/MikeTalks
Listen to the show on SoundCloud at http://soundcloud.com/MikesDailyPodcast
And hear it on Spreaker at http://www.spreaker.com/user/MikeMatthews
Watch Mike's Daily Podcast TV at http://youtube.com/MikesDailyPodcast
I've been interviewed about the show!!! Check it out here http://voxelectro.com/2013/05/16/mikes-daily-podcast