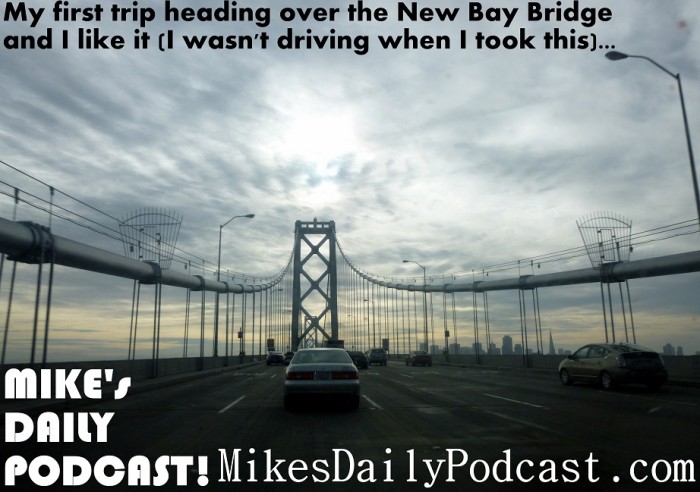 MIKE's DAILY PODCAST effizode 601 Friday November 29th 2013 3pm Pacific Time
"Internet Talk Radio For Your Imagination!"
As I left my part time job last night and passed by the local mall, what to my wandering eyes should appear?  Way to many people trying to park in a confined space, my dear!  Yes, the mall's parking lot was packed at 10:30pm!  I find this fascinating.  To see that many people shopping that late.  To see that many people desperate for "amazing deals."  Something tells me they could have gotten those exact same deals online.  But who am I to judge?  I'm just bitter because I couldn't find a spot.
Today we hear from Benita, the Disgruntled Fiddle Player, and the Brewmaster, PLUS we bring you PART 2 of my INTO AN INTERVIEW segment with Justin Johnson of the band PRETTY LITTLE EMPIRE!
Tomorrow I'll have the finale of my INTO AN INTERVIEW with Justin Johnson of PRETTY LITTLE EMPIRE, plus we'll hear from Madame Rootabega, Valentino, and Bison Bentley!
By the way, catch some of PRETTY LITTLE EMPIRE's awesome videos at their you tube channel here…
https://www.youtube.com/user/prettylittleempire
Email me if you'd like to sponsor the show or if you'd like to be a guest on the show at MikesDailyPodcast@gmail.com
Tell your friends about my website http://MikesDailyPodcast.com
Subscribe on iTunes at http://itunes.apple.com/us/podcast/michaelmatthewss-podcast/id318601461
"Like" this show and then share it on facebook at http://facebook.com/MikesDailyPodcast
"Yelp" about this show at http://www.yelp.com/biz/Mikes-Daily-Podcast-castro-valley
I tweet at http://twitter.com/MikeTalks
Listen to the show on Spreaker at http://www.spreaker.com/user/mikematthews
And hear it on SoundCloud at http://soundcloud.com/MikesDailyPodcast
Watch Mike's Daily Podcast TV at http://youtube.com/MikesDailyPodcast
See an ad for my show on the website that has all the fun Bay Area things to do at http://Fabagoo.com