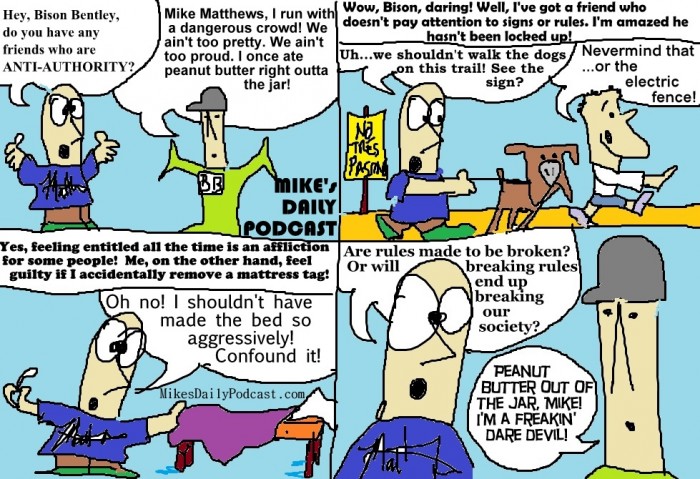 MIKE's DAILY PODCAST effizode 602 Saturday November 30th 2013 4pm Pacific Time
"Internet Talk Radio For Your Imagination!"
I'm thankful that I got through the Thanksgiving holiday without getting sick of turkey.  Turkey is so good for you.  It certainly has less fat than beef and pork, and ground turkey is the greatest food on the earth.  You can make it into anything!  Even a meatloaf!  Although that's like making Limp Biscuit into Creed.
Today we hear from Madame Rootabega, Valentino, and Bison Bentley, PLUS the finale of my INTO AN INTERVIEW with PRETTY LITTLE EMPIRE's lead singer JUSTIN JOHNSON!
Tomorrow we won't have a MIKE's DAILY PODCAST but I will be back with BANDSMUTATIONS, THE MIKELOPEDIA INSANICA, and FABAGOO THINGS TO DO, plus we'll hear from Chely Shoehart, Floyd the Floorman, and John Deer the Engineer!
By the way, catch some of PRETTY LITTLE EMPIRE's awesome videos at their you tube channel here…
https://www.youtube.com/user/prettylittleempire
Email me if you'd like to sponsor the show or if you'd like to be a guest on the show at MikesDailyPodcast@gmail.com
Tell your friends about my website http://MikesDailyPodcast.com
Subscribe on iTunes at http://itunes.apple.com/us/podcast/michaelmatthewss-podcast/id318601461
"Like" this show and then share it on facebook at http://facebook.com/MikesDailyPodcast
"Yelp" about this show at http://www.yelp.com/biz/Mikes-Daily-Podcast-castro-valley
I tweet at http://twitter.com/MikeTalks
Listen to the show on Spreaker at http://www.spreaker.com/user/mikematthews
And hear it on SoundCloud at http://soundcloud.com/MikesDailyPodcast
Watch Mike's Daily Podcast TV at http://youtube.com/MikesDailyPodcast
See an ad for my show on the website that has all the fun Bay Area things to do at http://Fabagoo.com