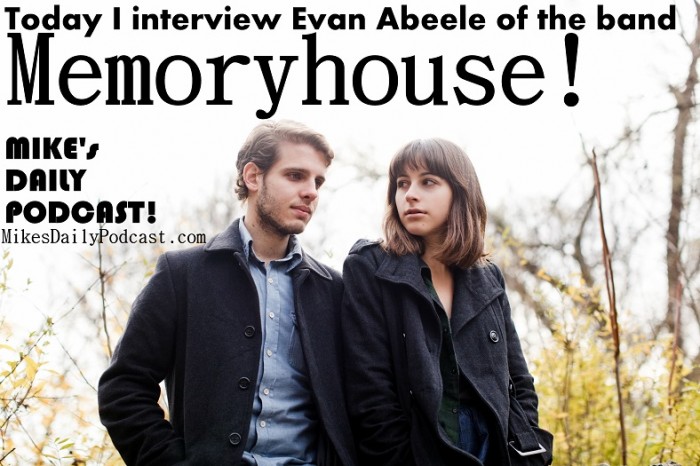 MIKE's DAILY PODCAST effizode 520 Friday June 14th 2013 11am Pacific Time
"Internet Talk Radio For Your Imagination!"
I went to an open mic which I talk about on today's show.  I saw four young kids perform who were so talented.  Livermore is a huge talent pool of music.  If you hear of an open mic in Livermore, California go there and see some great live tunes!  That is until I take the stage.  Then run.
Today we hear from Madame Rootabega, Valentino, and Bison Bentley, PLUS we bring you the segment INTO AN INTERVIEW where I talk to Evan Abeele of the dream pop music group MEMORYHOUSE!
Tomorrow I'll have part 2 of my INTO AN INTERVIEW with Evan Abeele of MEMORYHOUSE!  Plus we'll hear from Chely Shoehart, Floyd the Floorman, and John Deer the Engineer!
Email me if you'd like to sponsor the show or if you'd like to be a guest on the show at MikesDailyPodcast@gmail.com
Tell your friends about my website http://MikesDailyPodcast.com
Subscribe on iTunes at http://itunes.apple.com/us/podcast/michaelmatthewss-podcast/id318601461
"Like" this show on facebook at http://facebook.com/MikesDailyPodcast
"Yelp" about this show at http://www.yelp.com/biz/Mikes-Daily-Podcast-castro-valley
I tweet at http://twitter.com/MikeTalks
Listen to the show on SoundCloud at http://soundcloud.com/MikesDailyPodcast
And hear it on Spreaker at http://www.spreaker.com/user/MikeMatthews
Watch Mike's Daily Podcast TV at http://youtube.com/MikesDailyPodcast
I've been interviewed about the show!!! Check it out here http://voxelectro.com/2013/05/16/mikes-daily-podcast