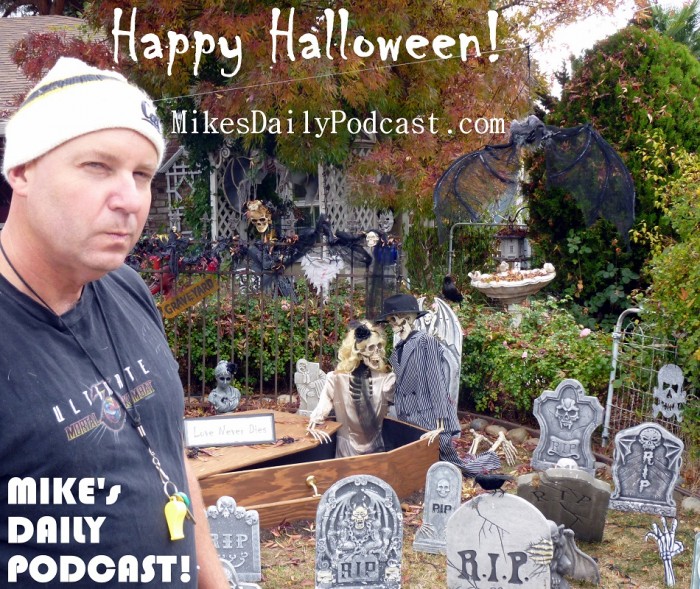 MIKE's DAILY PODCAST effizode 588 Thursday Halloween October 31st 2013 11am Pacific Time
"Internet Talk Radio For Your Imagination!"
HAPPY HALLOWEEN!  Oh, those were some fun days when we were kids, right?  Going to strangers' houses and begging for food!  That wasn't teaching us any bad habits, was it?  Then later teaching us to dress slutty.  Not to mention all the kids that turned to Satanism.  Such a great holiday!  Oh, and you don't even get the day off!  Evil evil stupid day.
Today we hear from Chely Shoehart, Floyd the Floorman, and John Deer the Engineer, PLUS the return of the segment INTO AN INTERVIEW where we talk to Country singer DOUG BRINEY!
Tomorrow we bring you the finale of my INTO AN INTERVIEW with DOUG BRINEY, plus we'll hear from Benita, the Disgruntled Fiddle Player, and the Brewmaster!
Email me if you'd like to sponsor the show or if you'd like to be a guest on the show at MikesDailyPodcast@gmail.com
Tell your friends about my website http://MikesDailyPodcast.com
Subscribe on iTunes at http://itunes.apple.com/us/podcast/michaelmatthewss-podcast/id318601461
"Like" this show and then share it on facebook at http://facebook.com/MikesDailyPodcast
"Yelp" about this show at http://www.yelp.com/biz/Mikes-Daily-Podcast-castro-valley
I tweet at http://twitter.com/MikeTalks
Listen to the show on SoundCloud at http://soundcloud.com/MikesDailyPodcast
And hear it on Spreaker at http://www.spreaker.com/user/MikeMatthews
Watch Mike's Daily Podcast TV at http://youtube.com/MikesDailyPodcast
See an ad for my show on the website that has all the fun Bay Area things to do at http://Fabagoo.com