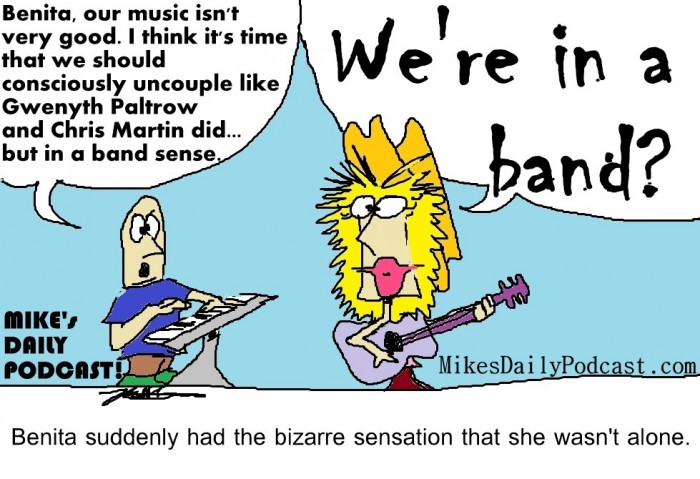 MIKE's DAILY PODCAST effizode 655
Or here…
I dis The Wire on today's show with someone from Baltimore.  What am I thinkin'?  And I mention the horrible TV practice of doing the "trapped" episode where the characters are trapped in a car, in a freezer, in a spaceship, and they proceed to do a psychological, dialogue heavy episode.  I HATE THOSE!!!  Why?  I don't know.  Maybe I'm claustrophobic.  Maybe I don't like the way it reminds me that I'm trapped watching a lame TV show.  Maybe I don't like how obvious the TV show is in not paying for sets.  Maybe I shouldn't watch TV anymore.  Yeah, I'll go with that.
Today we hear from Benita, the Disgruntled Fiddle Player, and the Brewmaster., PLUS the finale of my INTO AN INTERVIEW with Justin Levy of the Baltimore band EUREKA BIRDS!
Tomorrow we'll bring you the return of the segment THE MIKELOPEDIA INSANICA, plus we'll hear from Madame Rootabega, Valentino, and Bison Bentley!
Email MikesDailyPodcast@gmail.com
Website http://MikesDailyPodcast.com
iTunes http://itunes.apple.com/us/podcast/michaelmatthewss-podcast/id318601461
Facebook Page http://facebook.com/MikesDailyPodcast
Twitter Page http://twitter.com/MikeTalks
Tumblr Page http://MikesDailyPodcast.tumblr.com
Yelp Page http://www.yelp.com/biz/Mikes-Daily-Podcast-castro-valley
MixCloud http://www.mixcloud.com/MikesDailyPodcast
Spreaker http://www.spreaker.com/user/mikematthews
SoundCloud http://soundcloud.com/MikesDailyPodcast
YouTube http://youtube.com/MikesDailyPodcast