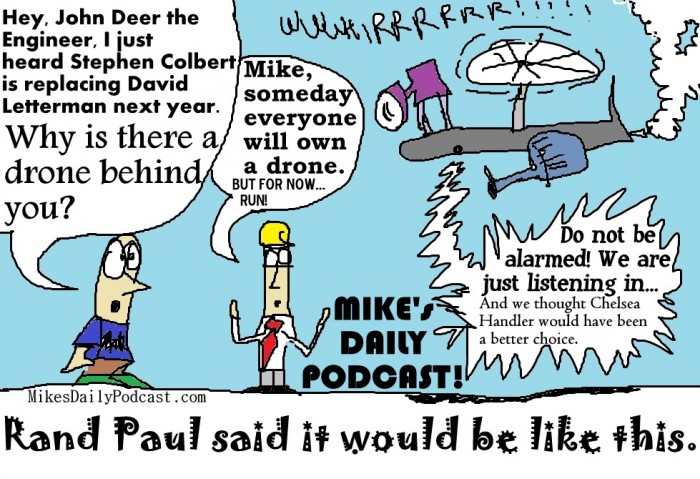 MIKE's DAILY PODCAST effizode 668
Or here…
If you can't text right, just call, okay? I'm tired of reading grammatical abominations on my phone.  Yeah, I understand, texting is difficult…especially when you're driving.  What?  NEVER do that!  Put the phone on speakerphone and call.  I'm going to start a remedial grammar for texters class.  My name will be Mr. Matthews.  I will be so cool.
Today we hear from Madame Rootabega, Valentino, and Bison Bentley, PLUS it's the FINALE of my INTO AN INTERVIEW with Ben Bloom of the Seattle band POLYRHYTHMICS!
Tomorrow we'll have the return of the much loved segment WOW, SCHATZ, WOW!  Plus we'll hear from Chely Shoehart, Floyd the Floorman, and John Deer the Engineer!
Email MikesDailyPodcast@gmail.com
Website http://MikesDailyPodcast.com
iTunes http://itunes.apple.com/us/podcast/michaelmatthewss-podcast/id318601461
Facebook Page http://facebook.com/MikesDailyPodcast
Twitter Page http://twitter.com/MikeTalks
Tumblr Page http://MikesDailyPodcast.tumblr.com
Yelp Page http://www.yelp.com/biz/Mikes-Daily-Podcast-castro-valley
MixCloud http://www.mixcloud.com/MikesDailyPodcast
Spreaker http://www.spreaker.com/user/mikematthews
SoundCloud http://soundcloud.com/MikesDailyPodcast
YouTube http://youtube.com/MikesDailyPodcast