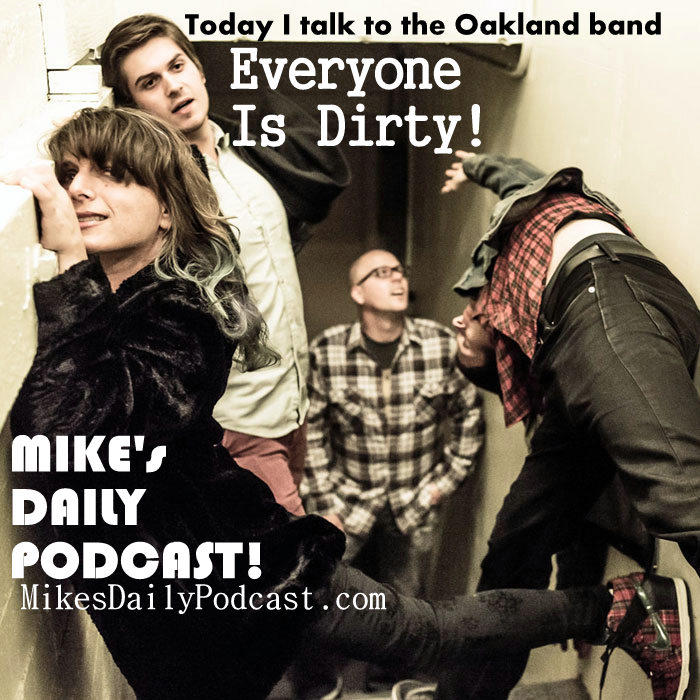 MIKE's DAILY PODCAST effizode 680
Or here…
Ever do a whole mess of gardening (hedging, weed-wacking, buzz-sawing) and then go inside and collapse!  Ah, nature, you like to make me work for my oxygen, don't you?
Today we hear from Madame Rootabega, Valentino, and Bison Bentley, plus it's the return of the much loved segment INTO AN INTERVIEW where I speak to Sivian Gur-Arieh of the Oakland band EVERYONE IS DIRTY!
Tomorrow I'll have part 2 of my interview with EVERYONE IS DIRTY, plus we'll hear from Chely Shoehart, Floyd the Floorman, and John Deer the Engineer.
Email MikesDailyPodcast@gmail.com
Website http://MikesDailyPodcast.com
iTunes http://itunes.apple.com/us/podcast/michaelmatthewss-podcast/id318601461
Facebook Page http://facebook.com/MikesDailyPodcast
Twitter Page http://twitter.com/MikeTalks
Tumblr Page http://MikesDailyPodcast.tumblr.com
Yelp Page http://www.yelp.com/biz/Mikes-Daily-Podcast-castro-valley
MixCloud http://www.mixcloud.com/MikesDailyPodcast
Spreaker http://www.spreaker.com/user/mikematthews
SoundCloud http://soundcloud.com/MikesDailyPodcast
Mike's Daily Podcast Radio http://www.radionomy.com/en/radio/MikesDailyPodcast
YouTube http://youtube.com/MikesDailyPodcast