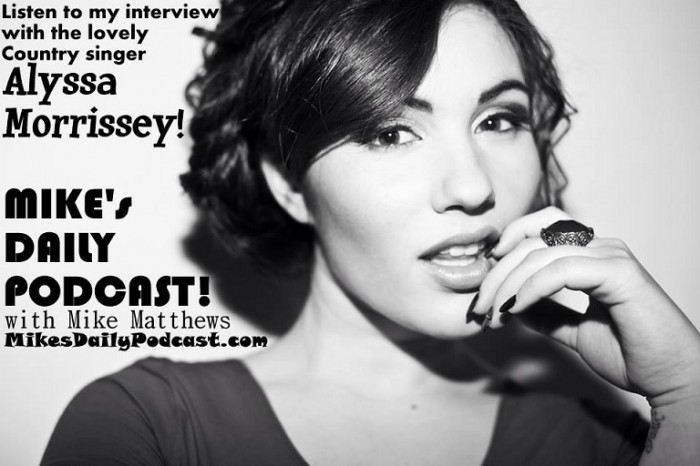 MIKE's DAILY PODCAST effizode 692
Seriously, I can't stand any of those cutesy Google commercials or videos they make to promote whatever it is they're doing.  They grab the best looking nerd-kids out of their staff and get a personality coach to teach them to be engaging in front of a camera and then there they go.  It makes me want to puke all over Silicon Valley.  Yes, that is a strange thing to want to do.
Today we hear from Madame Rootabega, Valentino, and Bison Bentley, PLUS it's a NEW INTO AN INTERVIEW with beautiful Canadian Country Music singer ALYSSA MORRISSEY!
Tomorrow I'll bring you the FINALE of my INTO AN INTERVIEW with ALYSSA MORRISSEY, plus we'll hear from Chely Shoehart, Floyd the Floorman, and John Deer the Engineer!
Email MikesDailyPodcast@gmail.com
Website http://MikesDailyPodcast.com
iTunes http://itunes.apple.com/us/podcast/michaelmatthewss-podcast/id318601461
Facebook Page http://facebook.com/MikesDailyPodcast
Twitter Page http://twitter.com/MikeTalks
Tumblr Page http://MikesDailyPodcast.tumblr.com
Yelp Page http://www.yelp.com/biz/Mikes-Daily-Podcast-castro-valley
MixCloud http://www.mixcloud.com/MikesDailyPodcast
Spreaker http://www.spreaker.com/user/mikematthews
SoundCloud http://soundcloud.com/MikesDailyPodcast
YouTube http://youtube.com/MikesDailyPodcast