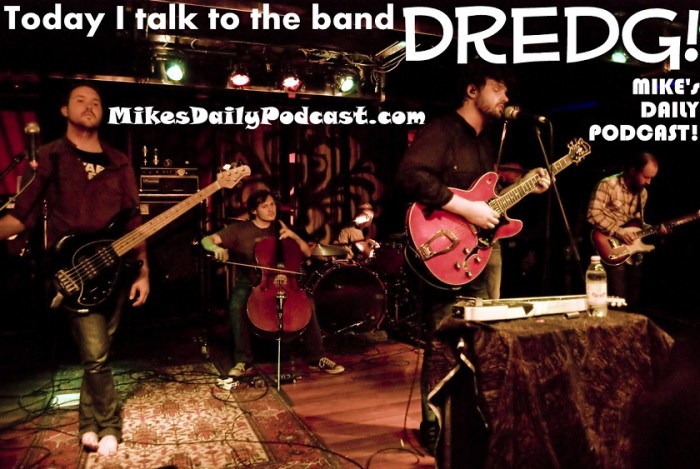 MIKE's DAILY PODCAST effizode 695
Or here…
I finally saw Star Trek 2.  For some reason, I identify the one with Benedict Cumberbatch as Star Trek 2, even though it's like Star Trek 10.  I liked it but I wouldn't pay 20 dollars to see it on the big screen–especially 3D or IMAX.  I'd be throwing up all over the place.  I know, it's a young man's game, movies.  I saw so many movies as a teenager and twenty-something.  I should say I saw so many BAD movies.  Maybe that's why I don't go to theaters anymore.  I'm immune to movie magic.  Can I have my Oscar now?
Today we hear from Madame Rootabega, Valentino, and Bison Bentley, PLUS it's a new INTO AN INTERVIEW with bassist DREW ROULETTE of the Los Gatos band DREDGE!
Tomorrow I'll bring you the FINALE of my INTO AN INTERVIEW with DREW ROULETTE of the band DREDG, plus we'll hear from Chely Shoehart, Floyd the Floorman, and John Deer the Engineer!
Email MikesDailyPodcast@gmail.com
Website http://MikesDailyPodcast.com
iTunes http://itunes.apple.com/us/podcast/michaelmatthewss-podcast/id318601461
Facebook Page http://facebook.com/MikesDailyPodcast
Twitter Page http://twitter.com/MikeTalks
Tumblr Page http://MikesDailyPodcast.tumblr.com
Yelp Page http://www.yelp.com/biz/Mikes-Daily-Podcast-castro-valley
MixCloud http://www.mixcloud.com/MikesDailyPodcast
Spreaker http://www.spreaker.com/user/mikematthews
SoundCloud http://soundcloud.com/MikesDailyPodcast
YouTube http://youtube.com/MikesDailyPodcast