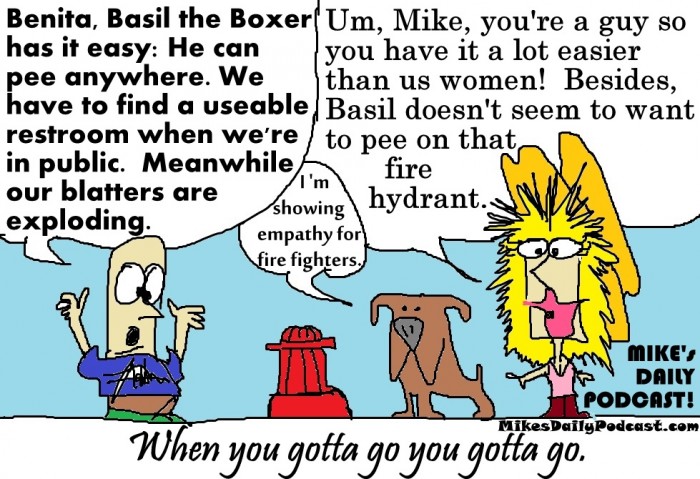 MIKE's DAILY PODCAST effizode 698
My first trip to the Brick and Mortar was last night.  I talk about that on today's show and we find out why rock music should be done by siblings: Brothers and Sisters, Sisters and Sisters, and Brothers and Brothers.  That's not just what I think, it's the law!  Wilson Phillips, bitches!
Today we hear from Madame Rootabega, Valentino, and Bison Bentley, PLUS it's the FINALE of my INTO AN INTERVIEW with the beautiful Leanne Kelly of the San Francisco band NEW SPELL!
Tomorrow it's the return of the much-loved feature THE MIKELOPEDIA INSANICA where we'll have some cool and interesting TRAVEL NEWS just in time for your summer vacation plans, plus we'll hear from Chely Shoehart, Floyd the Floorman, and John Deer the Engineer!
Email MikesDailyPodcast@gmail.com
Website http://MikesDailyPodcast.com
iTunes http://itunes.apple.com/us/podcast/michaelmatthewss-podcast/id318601461
Facebook Page http://facebook.com/MikesDailyPodcast
Twitter Page http://twitter.com/MikeTalks
Tumblr Page http://MikesDailyPodcast.tumblr.com
Yelp Page http://www.yelp.com/biz/Mikes-Daily-Podcast-castro-valley
MixCloud http://www.mixcloud.com/MikesDailyPodcast
Spreaker http://www.spreaker.com/user/mikematthews
SoundCloud http://soundcloud.com/MikesDailyPodcast
YouTube http://youtube.com/MikesDailyPodcast