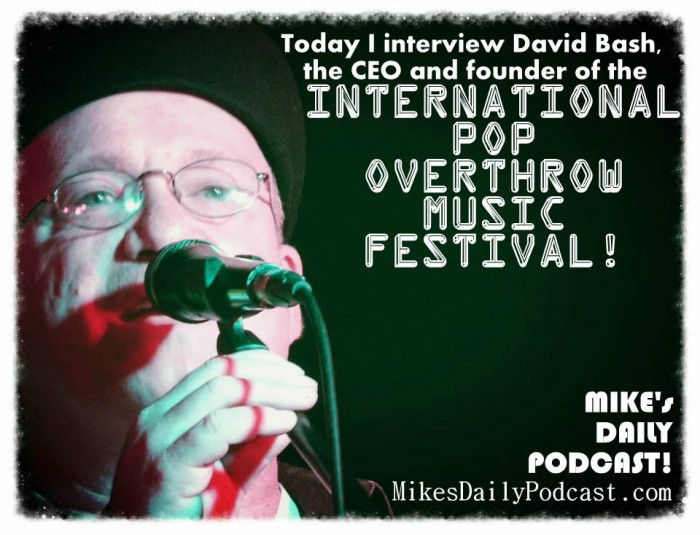 MIKE's DAILY PODCAST effizode 548 Wednesday August 14th 2013 10pm Pacific Time
"Internet Talk Radio For Your Imagination!"
Some movies get made and you're like why?  Then you watch the whole movie even though you're watching it on Netflix and you could turn it off and you're like why?  And then you go "Damn you, Gwenyth Paltrow, for drawing me into your awful movie!"  Ain't life grand?
Today we hear from Madame Rootabega, Valentino, and Bison Bentley, PLUS we bring you an INTO AN INTERVIEW with the CEO and founder of the INTERNATIONAL POP OVERTHROW MUSIC FESTIVAL, David Bash!
Tomorrow I bring you the much awaited MIKE ON MOBILE from my Bodega Bay trip featuring PART 1 of the segment WELSH ON THE WORLD with the inimitable Robert Owen Welsh.  PLUS we'll hear from Chely Shoehart, Floyd the Floorman, and John Deer the Engineer.
Email me if you'd like to sponsor the show or if you'd like to be a guest on the show at MikesDailyPodcast@gmail.com
Tell your friends about my website http://MikesDailyPodcast.com
Subscribe on iTunes at http://itunes.apple.com/us/podcast/michaelmatthewss-podcast/id318601461
"Like" this show and then share it on facebook at http://facebook.com/MikesDailyPodcast
"Yelp" about this show at http://www.yelp.com/biz/Mikes-Daily-Podcast-castro-valley
I tweet at http://twitter.com/MikeTalks
Listen to the show on SoundCloud at http://soundcloud.com/MikesDailyPodcast
And hear it on Spreaker at http://www.spreaker.com/user/MikeMatthews
Watch Mike's Daily Podcast TV at http://youtube.com/MikesDailyPodcast