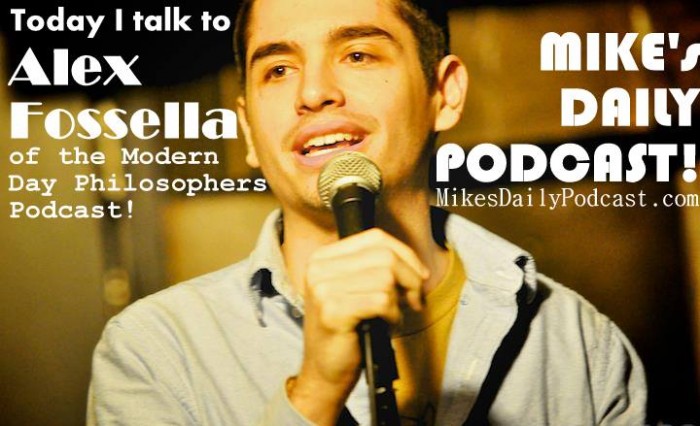 MIKE's DAILY PODCAST effizode 678
Or here…
So I had a little technical difficulty today that really irks me. I accidentally recorded over one of the first part of today's INTO AN INTERVIEW!  This is the first time I've done this, hopefully it's the last time.  Oh, and I couldn't get it back because I didn't realize I had done it till later when all access to the original file was gone. What have I learned today? Always back up everything! Yes, basically this situation taught me to be a pack rat.
Today we hear from Chely Shoehart, Floyd the Floorman, and John Deer the Engineer, PLUS we speak with comedian and philosophy major Alex Fossella who is part of the Modern Day Philosophers Podcast, a very different comedy podcast.
Tomorrow it's the return of the much loved feature, delayed from yesterday, DO YOU KNOW DAT? Plus we'll hear from Benita, the Disgruntled Fiddle Player, and the Brewmaster!
Email MikesDailyPodcast@gmail.com
Website http://MikesDailyPodcast.com
iTunes http://itunes.apple.com/us/podcast/michaelmatthewss-podcast/id318601461
Facebook Page http://facebook.com/MikesDailyPodcast
Twitter Page http://twitter.com/MikeTalks
Tumblr Page http://MikesDailyPodcast.tumblr.com
Yelp Page http://www.yelp.com/biz/Mikes-Daily-Podcast-castro-valley
MixCloud http://www.mixcloud.com/MikesDailyPodcast
Spreaker http://www.spreaker.com/user/mikematthews
SoundCloud http://soundcloud.com/MikesDailyPodcast
Mike's Daily Podcast Radio http://www.radionomy.com/en/radio/MikesDailyPodcast
YouTube http://youtube.com/MikesDailyPodcast