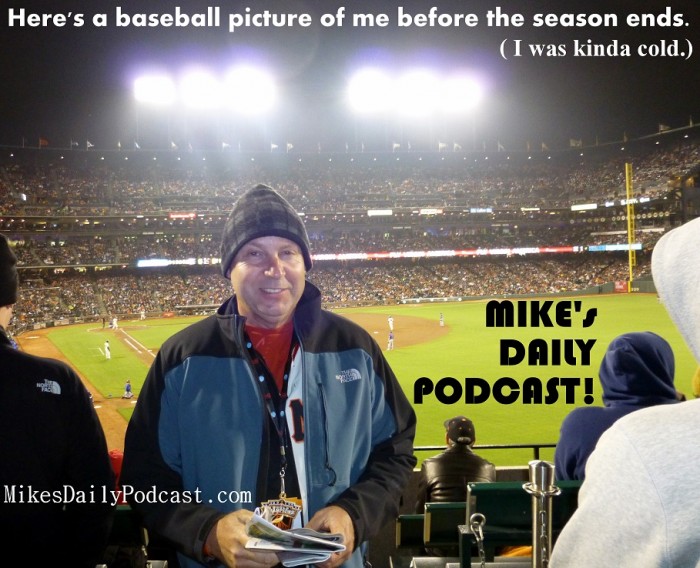 MIKE's DAILY PODCAST effizode 584 Friday October 25th 2013 8pm Pacific Time
"Internet Talk Radio For Your Imagination!"
Ahhh, don't you love friends that are anti-authoritarian?  If you're really my friend, you won't get ME in trouble because of your stupid problems-with-authority beliefs.  Respect my lemming-like rule-following personality.  Yes, I'm a stick in the mud.  Respect my mud.
Today we hear from Madame Rootabega, Valentino, and Bison Bentley, PLUS we bring you the return of the segment FABAGOO THINGS TO DO where we look at fun things to do this weekend with Steve Hansen from Fabagoo dot com!
Tomorrow and the rest of the weekend we won't have an MDP but I'll be back next week with the return of the segment DO YOU KNOW DAT? PLUS we'll hear from a musician we talked to at the beginning of the year, and we'll have the return of WELSH ON THE WORLD!  Not to mention we'll hear from Chely Shoehart, Floyd the Floorman, and John Deer the Engineer!
Email me if you'd like to sponsor the show or if you'd like to be a guest on the show at MikesDailyPodcast@gmail.com
Tell your friends about my website http://MikesDailyPodcast.com
Subscribe on iTunes at http://itunes.apple.com/us/podcast/michaelmatthewss-podcast/id318601461
"Like" this show and then share it on facebook at http://facebook.com/MikesDailyPodcast
"Yelp" about this show at http://www.yelp.com/biz/Mikes-Daily-Podcast-castro-valley
I tweet at http://twitter.com/MikeTalks
Listen to the show on SoundCloud at http://soundcloud.com/MikesDailyPodcast
And hear it on Spreaker at http://www.spreaker.com/user/MikeMatthews
Watch Mike's Daily Podcast TV at http://youtube.com/MikesDailyPodcast
See an ad for my show on the website that has all the fun Bay Area things to do at http://Fabagoo.com
Oh, I play today's hits and some fun older tunes weekdays 7am to 11am (Pacific) on http://Wave106.com