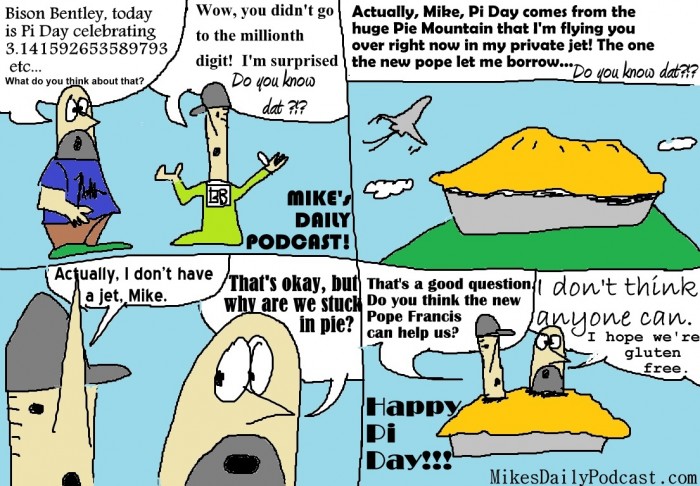 MIKE's DAILY PODCAST effizode 482 Thursday March 14th 2013 4pm Pacific Time
"Internet Talk Radio For Your Imagination!"
Congrats to Christy Jill Brush Gourley and Jason Gourley on finally welcoming their two twins onto the globe!  As this podcast posts, they are being posted to the physical human matrix we call life!  I wish this happy couple all the best and as to the twins I wish them all the best as they make their way in this crazy world.  If they're any bit as brilliant as their folks are they'll be amazing!!!  Welcome, welcome, WELCOME!!!
Today we hear from Chely Shoehart, Floyd the Floorman, and John Deer The Engineer, PLUS we bring you the FINALE of my INTO AN INTERVIEW with singer/songwriter Jiggley Jones!
Tomorrow we bring you the delayed segment NEWS RANDOM, plus we'll hear from Benita, the Disgruntled Fiddle Player, and the Brewmaster!
Email me if you'd like to sponsor the show or if you'd like to be a guest on the show at MikesDailyPodcast@gmail.com
Tell your friends about my website http://MikesDailyPodcast.com
Subscribe on iTunes at http://itunes.apple.com/us/podcast/michaelmatthewss-podcast/id318601461
"Like" this show on facebook at http://facebook.com/MikesDailyPodcast
"Yelp" about this show at http://www.yelp.com/biz/Mikes-Daily-Podcast-castro-valley
I tweet at http://twitter.com/MikeTalks
Watch Mike's Daily Podcast TV at http://youtube.com/MikesDailyPodcast