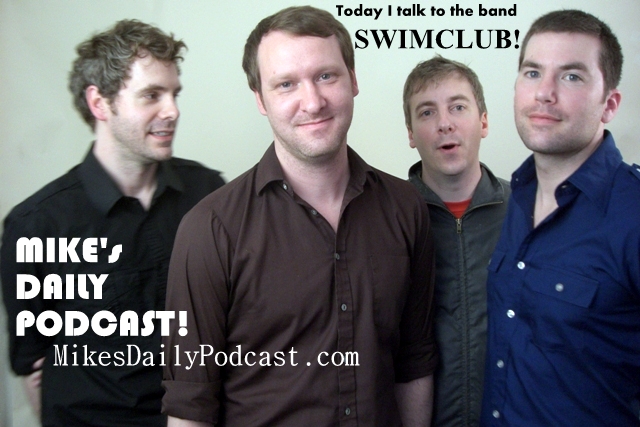 MIKE's DAILY PODCAST effizode 515 Thursday May 30th 2013 5pm Pacific Time
"Internet Talk Radio For Your Imagination!"
Not on today's show but in a later part of my interview I mistakenly identify the Casements as the Vaults.  There's no such thing as the Vaults in New York, except for the Seinfeld reference…"It's in the Vault."  Which, of course, never worked.  Love that show.  However, I don't like watching it.  Contradiction?
Today we hear from Chely Shoehart, Floyd the Floorman, and John Deer the Engineer, PLUS we bring you the segment INTO AN INTERVIEW where I speak with Gene Davenport of the band SWIMCLUB!
Tomorrow we bring you part 2 of my INTO AN INTERVIEW with Gene Davenport of the band SWIMCLUB, plus we'll hear from Benita, the Disgruntled Fiddle Player, and the Brewmaster!
Email me if you'd like to sponsor the show or if you'd like to be a guest on the show at MikesDailyPodcast@gmail.com
Tell your friends about my website http://MikesDailyPodcast.com
Subscribe on iTunes at http://itunes.apple.com/us/podcast/michaelmatthewss-podcast/id318601461
"Like" this show on facebook at http://facebook.com/MikesDailyPodcast
"Yelp" about this show at http://www.yelp.com/biz/Mikes-Daily-Podcast-castro-valley
I tweet at http://twitter.com/MikeTalks
Listen to the show on SoundCloud at http://soundcloud.com/MikesDailyPodcast
And hear it on Spreaker at http://www.spreaker.com/user/MikeMatthews
Watch Mike's Daily Podcast TV at http://youtube.com/MikesDailyPodcast
I've been interviewed about the show!!! Check it out here http://voxelectro.com/2013/05/16/mikes-daily-podcast