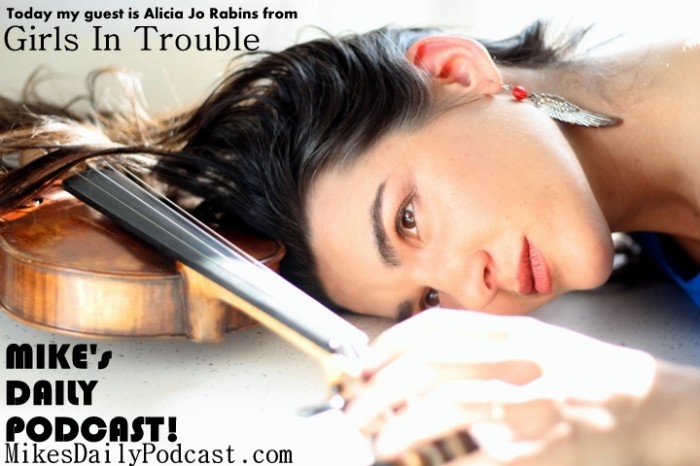 MIKE's DAILY PODCAST effizode 478 Wednesday March 6th 2013 11am Pacific Time
"Internet Talk Radio For Your Imagination!"
I did an open mic last night!  I met some cool people!  Some open mic's are full of supportive people others are full of self-centered and self-obsessed nerdowells.  This one had some supportive folk at Berkeley's Starry Plough.  This was my first time ever performing in Berkeley so it was a momentous occasion.  I performed my song "God is Embarrassed" which I haven't put on my song page yet on my website but it's definitely on my list to record it.  Here's to good open mic's every where.  I'm definitely going to play at more!
Today we hear from Madame Rootabega, Valentino, and Bison Bentley, PLUS we bring you PART 1 of the segment INTO AN INTERVIEW with Alicia Jo Rabins of the band GIRLS IN TROUBLE!
Tomorrow we'll bring you the FINALE of my INTO AN INTERVIEW with Alicia Jo Rabins of GIRLS IN TROUBLE, plus we'll hear from Chely Shoehart, Floyd the Floorman, and John Deer the Engineer!
Email me if you'd like to sponsor the show or if you'd like to be a guest on the show at MikesDailyPodcast@gmail.com
Tell your friends about my website http://MikesDailyPodcast.com
Subscribe on iTunes at http://itunes.apple.com/us/podcast/michaelmatthewss-podcast/id318601461
"Like" this show on facebook at http://facebook.com/MikesDailyPodcast
"Yelp" about this show at http://www.yelp.com/biz/Mikes-Daily-Podcast-castro-valley
I tweet at http://twitter.com/MikeTalks
Watch Mike's Daily Podcast TV at http://youtube.com/MikesDailyPodcast