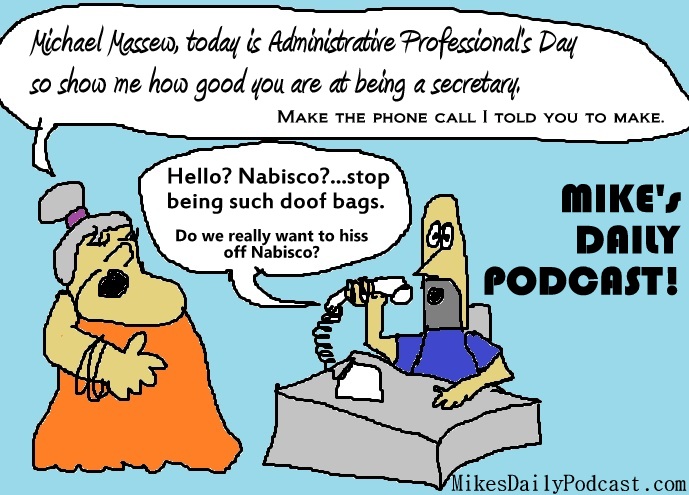 MIKE's DAILY PODCAST effizode 294 Wednesday April 25th 2012
"Internet Talk Radio For Your Imagination!"
Listen to today's show on MichaelMatthews.podomatic.com by clicking on the link below…
http://michaelmatthews.podomatic.com/entry/2012-04-25T18_31_32-07_00
Today has been a fun day for me
going to thrift stores with my friend Terri
she needs to find odd things for the Aids Bike Ride
where people ride bicycles over a long divide
they go from San Francisco to Los Angleleeeez
and my friend Terri helps out with the supervising
of all the have fun theme filled rest stops
so the best place to find stuff is at thrift shops
I saw one guy at a thrift store buying 10 cassettes and I thought, do you really want to do that?
Today's Administrative Professionals Day
and World Penguin Day and East Meets West Day…that last one needs some 'splaining…it has to do with sports teams meeting for friendly competition…I know, where do I find these things?
Today we hear from Madame Rootabega, Valentino, and Bison Bentley, PLUS we bring you the segment WHY THE HELL DID I "YELP" THAT? And on NEWS RANDOM, Bieber gets revenge.
Tomorrow we'll bring you the segment WILLYA SHADUP's LIBERTY NATION FREEDOM PHONE FOR ALL, plus we'll hear from Chely Shoehart, Floyd the Floorman, and John Deer the Engineer: three people who love thrift stores so much they buy all their games there.  Yes, board games, I have found are hella hella hey there fella cheap.  Hey there fella cheap?  I guess that just did come out of my mouth.
Mike Matthews
Sponsor this show and be part of the wonder that is the website MikesDailyPodcast.com.  Yes, the only destination to go on the Internet.  Porn?  Not necessary.  Sorry all you interestingly shaved women and me.  Email me if you'd like to sponsor the show or if you'd like to be a guest on the show at MikesDailyPodcast@gmail.com
MikesDailyPodcast.com
Also check out MikesDailyPodcast.blogspot.com & MikesDailyPodcast.tumblr.com
Subscribe on iTunes at http://itunes.apple.com/us/podcast/michaelmatthewss-podcast/id318601461
Or listen on your phone at Stitcher.com at http://www.stitcher.com/MIKESDAILY and enter the promo code MIKESDAILY to possibly win the $100 cash card!
"Like" this show on facebook at http://facebook.com/MikesDailyPodcast
"Yelp" about this show at http://www.yelp.com/biz/Mikes-Daily-Podcast-castro-valley