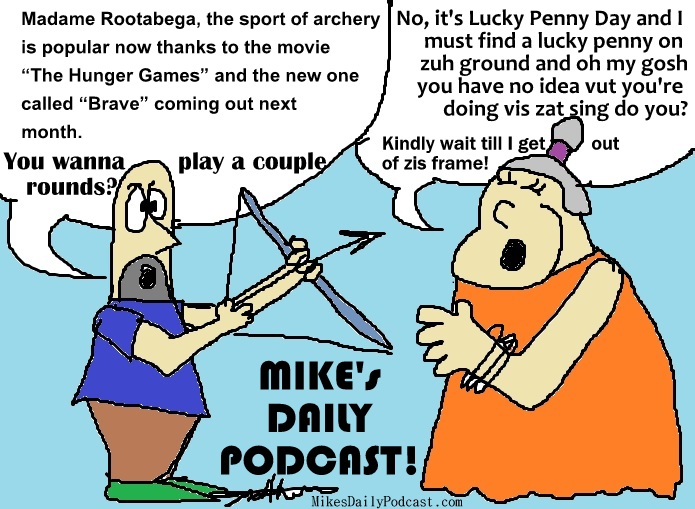 MIKE's DAILY PODCAST effizode 317 Wednesday May 23rd 2012
"Internet Talk Radio For Your Imagination!"
Listen to today's show on MichaelMatthews.podomatic.com by clicking on the link below…
http://michaelmatthews.podomatic.com/entry/2012-05-23T15_48_35-07_00
Obama's going to be in the Bay Area today
to raise some cash for his campaign
he's doing fundraisers in Silicon Valley
cuz there are a lot of fat cats in that alley
he's got some support on his stance on marriage of the same sex
Collin Powell said he has no problem with it so let's
remember he's the guy George the W needed to get us into
the war with Iraq so he's not someone to sneeze to
and it appears archery has become a more popular sport thanks to Hunger Games
today is Lucky Penny Day so holler
remember a hundred pennies still get you a dollar…they also make a handy screwdriver…flat head type primarily…penny for your thoughts?
Today we hear from Madame Rootabega, Valentino, and Bison Bentley, PLUS we bring you the segment THE MIKELOPEDIA INSANICA, and on NEWS RANDOM, digital ad sales are beating radio ad sales?
Tomorrow we bring you the segment MIKE's CASSETTE CUBBYHOLE, plus we'll hear from Chely Shoehart, Floyd the Floorman, and John Deer the Engineer who will be celebrating National Escargot Day by looking at that vehicle with the big "S" drawn on it and yelling "Look at that escargot!"  You're welcome.  That joke was as bad as eating a snail!
Mike Matthews
Sponsor this show.  Good things.  Yes, good things.  They are a plenty.  As is this show.  Email me if you'd like to sponsor the show or if you'd like to be a guest on the show at MikesDailyPodcast@gmail.com
MikesDailyPodcast.com
Also check out MikesDailyPodcast.blogspot.com & MikesDailyPodcast.tumblr.com
Subscribe on iTunes at http://itunes.apple.com/us/podcast/michaelmatthewss-podcast/id318601461
Or listen on your phone at Stitcher.com at http://www.stitcher.com/MIKESDAILY and enter the promo code MIKESDAILY to possibly win the $100 cash card!
"Like" this show on facebook at http://facebook.com/MikesDailyPodcast
"Yelp" about this show at http://www.yelp.com/biz/Mikes-Daily-Podcast-castro-valley