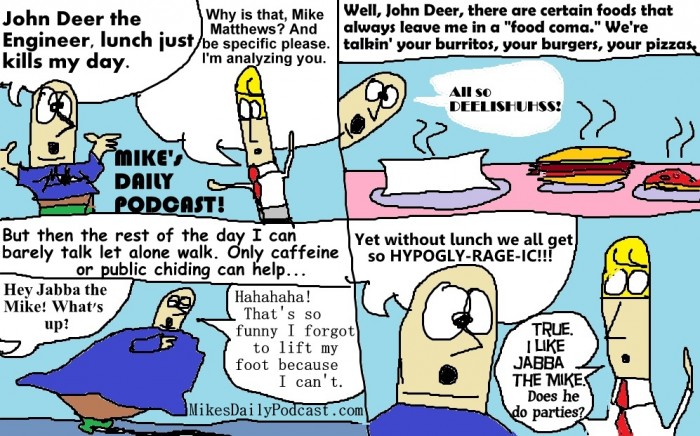 MIKE's DAILY PODCAST effizode 594 Friday November 8th 2013 3pm Pacific Time
"Internet Talk Radio For Your Imagination!"
So I make a little coffee, put it in the fridge, then later I put a little crushed ice, soy milk, a couple chocolate chips, chocolate milk powder, and this refrigerated coffee, blend it up and you get an instant Starbucks Java Chip rip off!  Costs a lot less and has fewer calories.  Well, it could have fewer calories, depending on how much cocoa you put in there.  So good.  That's the only recipe I know.  You're welcome.
Today we hear from Chely Shoehart, Floyd the Floorman, and John Deer the Engineer, PLUS we bring you the return of the segment DO YOU KNOW DAT? featuring interesting news about what you eat or what you might want to eat!
Tomorrow we bring you the last FM PROJECT for a while, I promise!  We also hear from Benita, the Disgruntled Fiddle Player, and the Brewmaster!
Email me if you'd like to sponsor the show or if you'd like to be a guest on the show at MikesDailyPodcast@gmail.com
Tell your friends about my website http://MikesDailyPodcast.com
Subscribe on iTunes at http://itunes.apple.com/us/podcast/michaelmatthewss-podcast/id318601461
"Like" this show and then share it on facebook at http://facebook.com/MikesDailyPodcast
"Yelp" about this show at http://www.yelp.com/biz/Mikes-Daily-Podcast-castro-valley
I tweet at http://twitter.com/MikeTalks
Listen to the show on Spreaker at http://www.spreaker.com/user/MikeMatthews
And hear it on SoundCloud at http://soundcloud.com/MikesDailyPodcast
Watch Mike's Daily Podcast TV at http://youtube.com/MikesDailyPodcast
See an ad for my show on the website that has all the fun Bay Area things to do at http://Fabagoo.com