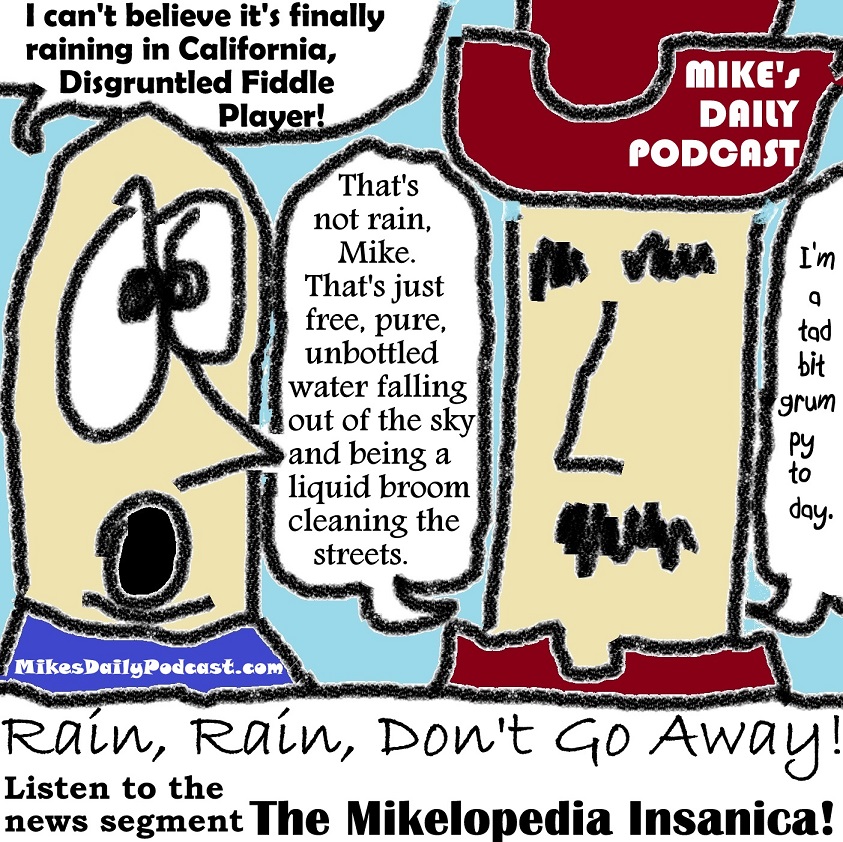 Listen to this show here…
http://media.blubrry.com/mikesdailypodcast/www.dropbox.com/s/zrhywojabbjvhwo/MIKEs-DAILY-PODCAST-810-News.mp3
Today it's the return of the much-loved feature THE MIKELOPEDIA INSANICA where we look at some interesting recent news that will educate and amaze!  Plus we hear from Benita, the Disgruntled Fiddle Player, and the Brewmaster!  And baking soda may have a purpose other than making anything I bake taste absolutely terrible.  It could help curb carbon emissions and help fight climate change.  We find out more this show.
You Tube.  Yes I use it for my show.  But if you ever have any technical difficulty uploading videos or anything else, you cannot get directly a hold of them.  You type in a box your problem and then hope they get back to you.  Yes, this is the world we shall be further and further immersed in within the next 10 years: Big Tech with no accountability because there will be no way to contact them.  Well…I can't wait.  Bring it on, George Orwell.  Oh, and by the way, you may not be able to find this show on you tube soon.
Next show we'll have a visit from Madame Rootabega, Valentino, and Bison Bentley, plus other shenanigans.
Help this show finally win an award!  Vote for Mike's Daily Podcast in the BEST PRODUCED category at http://podcastawards.com
Email MikesDailyPodcast@gmail.com
Website http://MikesDailyPodcast.com
Listen to the show on…
iTunes http://itunes.apple.com/us/podcast/michaelmatthewss-podcast/id318601461
YouTube http://youtube.com/MikesDailyPodcast
SoundCloud http://soundcloud.com/MikesDailyPodcast
TuneIn http://tunein.com/radio/Mikes-Daily-Podcast-p681382
Stitcher http://www.stitcher.com/podcast/mikes-daily-podcast
PodOmatic http://MichaelMatthews.podomatic.com
MixCloud http://www.mixcloud.com/MikesDailyPodcast
Spreaker http://www.spreaker.com/user/mikematthews
Tell your friends about the show through…
Facebook http://facebook.com/MikesDailyPodcast
Twitter http://twitter.com/MikeTalks
Instagram http://instagram.com/MikesDailyPodcast
Yelp http://www.yelp.com/biz/Mikes-Daily-Podcast-castro-valley
Tumblr http://MikeBlogs.tumblr.com